COMMUNICATE TO WIN IN DOUBLES TENNIS (GUEST POST)
By Kim Selzman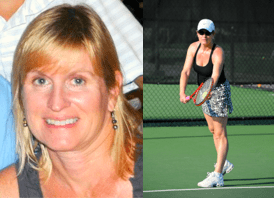 Kim is an avid tennis player who chronicles all of her on-court adventures over at TennisFixation.com.  She plays on three tennis teams and concentrates mainly on doubles.  Her favorite players happen to be the Bryan Brothers and she was very excited to drive Bob's baby girl, Michaela, around during the U.S. Men's Clay Court Championships this past April.  
I love watching the Bryan Brothers play tennis.  Their doubles play looks so simple and effortless.  Each seems to know exactly what the other one is doing and where he is on court at all times.  Mike never fails to switch when Bob is poaching.  Bob always covers the down-the-line return when Mike serves out wide.  They don't both go for the lob, leaving the net open for their opponents.  Their racquets rarely crash together because they both went for the shot up the middle.  It's almost as if they can read each other's minds.  Maybe they can – they're twins after all!
But the truth is, when you see the Bryan Brothers play, the one thing you realize that they do better than virtually any other doubles team out there is that they constantly communicate with each other.  These two don't let a point go by that they don't have some sort of word, acknowledgment, fist bump or look pass between them.  And they do this even though they are constantly on court together, playing and practicing.
Do you ever wonder, like me, just what it is the Bryan Brothers are talking about on court?  I mean, how much can there possibly be to say to your doubles partner?  I know I'm supposed to communicate with my partner, but what are we really supposed to communicate about?  And how do I communicate without coming off as being bossy, oblivious or just too darn chatty?
Well, after thinking about it quite a bit and trying a lot of different things out during my own matches, I've come up with a pretty good list of what to communicate with my doubles partner about and how to do it.  While these might not be the exact tips the Bryan Brothers are using, if you apply these in your own doubles matches, I'm sure you'll see a lot more success on court.
Before the warm-up even begins, talk to your partner about your respective strengths and weaknesses.  Come up with an initial game plan with which you are both comfortable.
During and after the warm-up, discuss what strengths and weaknesses you see in your opponents and use that knowledge to fine tune your initial game plan.
Communicate throughout each game, not necessarily after each point (but, hey, it works for the Bryan Brothers!).
Be positive and upbeat even when things go wrong.  Especially when things go wrong.  A well-timed "good try" or "keep it up" can do much to improve your team's on-court mood.
Don't be vague when making suggestions to your partner.  Be sure that your partner understands why you are suggesting a particular strategy or a change in their play and your play as a team.
Listen to your partner's suggestions and be open to changing your own game for the good of the team.
Don't get defensive or frustrated during your match!  A bad attitude is a waste of energy and never results in winning tennis.
When it's all over, whether your team wins or loses, leave the match and your partner on a high note.
If it feels like putting all of these tips into action would result in you talking to your partner constantly throughout the match, then good!  That's exactly what you should be doing.  Communicating constantly and effectively is how you build a successful doubles team.
Just look what it's done for the Bryan Brothers!