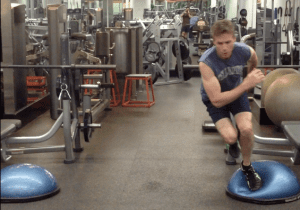 Like my "Reminders to Self" page, this constantly-updated page organizes some of the tennis-specific exercises my trainer and I incorporate into various workout routines to help improve overall strength, power, endurance, on-court movement– and to prevent common tennis injuries. Each exercise title below to see a video or description. As I outline in a post on "The Art and Science of Fitness Training for Tennis," I vary my workouts constantly, depending on specific goals throughout the year and timing of the USTA competitive season.
To receive updates when I post new videos, just subscribe to my YouTube channel.
As an ISSA-certfied and iTPA CTPS (Certified Tennis Performance Specialist) myself, the most important advice I can give to anyone serious about their training is the following:
Every single player is different, so we all need to develop customized workout programs tailored to our individual goals, needs, athletic backgrounds, and overall health and injury profiles. Ideally, this is done under the supervision of a top-notch certified personal trainer– preferably, a trainer certified by the International Tennis Performance Association (iTPA). If you cannot afford to invest in a trainer on an ongoing basis, I strongly (strongly) urge you to invest at least in a few sessions with an iTPA-certified coach to help you chart your course in a way that safe and effective for you.
SOURCES: Sources and videos for various exercises are linked when possible or noted in parentheses. "iTPA" short for International Tennis Performance Association. "Magnus" is short for Magnus Expand Human Potential, located at CourtSense in Tenefly and Bogota NJ. "Gallegos" is short for NYC-based trainer Jay Gallegos.
If no video is linked to exercises , I haven't found one yet but will try to post one at some point.
I. CORE STRENGTH & STABILITY
Modified Plank with Lunge (Gallegos)
Modified Plank with Perpendicular Leg Reach (Gallegos)
Bosu Plank with Lateral Leg Raise (Gallegos)
Single Leg Walkout with Knee In (Gallegos)
1-Legged Jump with Walkout and Plank (Gallegos)
Overhead Extension with Lateral Leg Raise (Gallegos)
Core Circuit (iTPA)
Rotational
II. UPPER BODY STRENGTH & STABILITY
Cable Overhead Side Bend and Reach (Gallegos)
Pullup Variation for Tennis Players (Gallegos)
DB Front and Lateral Raises*  *Overhead raises are not recommended by iTPA for tennis players due to risk of injury
DB Lateral Raises (on Bosu ball to add instability)
TRX One-Arm Reach Back (Gallegos)
Bent Over Row (12 reps x 3) (iTPA)
Kneeling Lunge Lat Pulldown (12 reps x 3) (iTPA)
Cable Open Stance FH and BH (each side) (8 reps x 3) (iTPA)
Shoulder Prehab Circuit (12 reps x 3) (iTPA)
III. LOWER BODY STRENGTH, POWER & STABILITY
Crossover Dumbbell Step-Up (see #2 on linked page)
Lateral Jumps onto Decline Bench (Gallegos)
DB Jump Shrug (iTPA)
Barbell Squat (iTPA)
DB Lateral Lunge (each leg) (iTPA)

Core Circuit (iTPA)

Lateral hops over hurdles (Jez Green/Andy Murray variations)
1-Leg Double Lateral Bound with MB (Magnus/CourtSense)
1-Leg MB Chest Pass with Rotation (Magnus/CourtSense)
IV. MOVEMENT (Tennis-Specific Speed & Agility)
Split Step Training Drill (1 rep x 5 sets) (iTPA)
Lateral Cross-Over Drill (6 reps x 2 sets) (iTPA)
Resisted Forehand Drill (4 reps x 3 sets) (iTPA)
Resisted Backhand Drill (4 reps x 3 sets) (iTPA)
RH and BH Open Stance Medicine Ball Toss (5 reps x 2 sets) (iTPA)
4 Cone Speed-Agility Drill (McCaw Method)
Stay Low Shadow Swings Around Cones (McCaw Method)
Lateral Shuffle with Crossover Step (iTPA)
Lateral Hurdle Crossover (McCaw Method)
V. INJURY PREVENTION/ "PREHAB" (I do 3x/week)
VI. ENDURANCE
MK Drill (iTPA)
Spider Drill (iTPA)
VII. FLEXIBILITY (Dynamic & Static)
Wharton Dynamic Flexibility Movements (Download App and see Book and DVD)
(Dynamic) Modified Plank with Lunge (Gallegos)
(Dynamic) Pullup Variation for Tennis Players (Gallegos)
STATIC (iTPA-recommended):
Lying Hamstring Stretch
Lying Knee to Chest Stretch
Figure 4 Stretch
Pretzl Stretch
Butterfly Stretch
Kneeling Hip Flexor Stretch
Cross-Body Stretch
Pec Stretch
Sleeper Stretch
Posterior Shoulder Stretch