A Serious Tennis Fan's Top 10 Tips for the 2022 US Open (Tickets and More)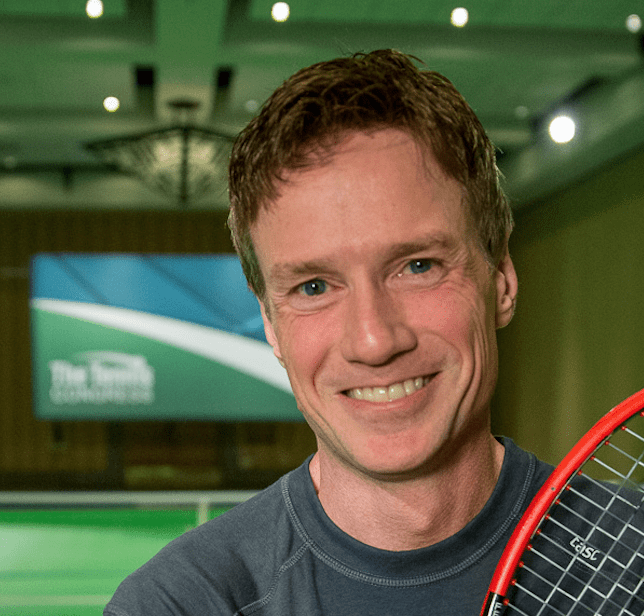 By P.J. Simmons  Note: I originally posted these tips in 2012 but continue to update them based on new learnings and feedback from readers. At the advice of a fellow tennis fanatic/blog expert (who knows how much I spend on tennis!) I finally created affiliate links for the ticket sites I had been recommending for years. This way, if you end up getting a ticket through one of my links you won't pay a penny more but the seller may give me a small commission versus giving it to Google Ads or another referring site — which, in turn, helps support my tennis obsession and my work with the nonprofit Net Gains Foundation and The Tennis Congress, passion projects I do on the side of my regular job. I appreciate the support!
Updated April 13, 2022
** Note: I will be updating this post significantly in the weeks ahead – stay tuned!
As a serious tennis player and fan living in New York City, I feel so lucky that the US Open is in my backyard. I absolutely love the tournament, and find nothing more educational and inspiring for my own game than seeing world-class live tennis. Following this exceptionally difficult year of COVID, I am more excited than ever to return to the 2022 US Open tennis tournament, which will take place with fans at the Billie Jean King National Tennis Center August 29- September 11, 2022! 
Having attended every US Open possible since I moved to New York in 2008, I've learned a ton through trial and error about how to maximize the opportunity, find the best tickets and seats, and generally get the biggest bang for the buck. Likewise, I've learned so much thanks to fellow fans around the world who have shared their own insights since I wrote the first version of this post over a decade years ago.  
Below are my top 10 recommendations for serious tennis fans like me.
In a rush and need quick answers?
This blog has expanded over the years to include a lot of detail that fellow fans have asked about. I recommend reading/skimming it in order if you can, but if you're rushed you can click on the shortcuts below for answers the the questions I get asked most often (and also click here for an INDEX to a more complete set of topics/questions):
Which ticket sites are best, trustworthy, and offer the best deals? Note: always check Ticketmaster first and click on the "map" view to get the best initial birdseye view of what's available (standard and resale tix via the Exchange), then compare with other reseller sites like Stubhub. 
How can I make sure I see Roger Federer (or Rafael Nadal, Novak Djokovic, Sasha Zverev, Serena Williams, Naomi Osaka, Sloane Stephens, Madison Keys, etc)?
What kind of matches (and how many) can I expect to see on certain days (in Ashe, Armstrong, Grandstand, etc)?
Tip #1: Do whatever you can to see world-class players and great matches up really close— which if you're on a budget may mean bypassing Arthur Ashe stadium in favor of the sixteen other courts where matches are played. 
For my first US Open, I spent about $250 per ticket for a decent seat during early rounds in the famous Arthur Ashe stadium (1/2 way up in the Loge section) so I'd be guaranteed to see at least one Top 10 player live. While it was certainly thrilling to experience the electricity of an evening at Ashe stadium, I still felt somewhat distant from the action (it's a mammoth 23,700-seat venue) and spent much of the time watching the match on the huge video screen. Moreover, because the tournament prioritizes putting the biggest stars on Ashe over the best match-ups, the matches I saw weren't terribly exciting.
Since then, I've become addicted to the unparalleled thrill of seeing many world-class competitors from a few feet away in epic duels on several of the smaller non-Ashe courts (Louis Armstrong Stadium, Grandstand Stadium (behind courts 4-6), the very cool Court #17, and other courts #4-#16). Once you have this experience you'll be addicted too. While it's rare that you'll see the Top 5 players on those courts, you WILL see other awe-inspiring players in very competitive matches.
A collateral benefit: you'll be ahead of the curve in seeing rising stars the likes of Coco Gauff before they become household names, and feel the excitement of "discovering" new talent to cheer for. I'll never forget the first time I saw Milos Raonic blast a tournament record 145 MPH serve from the first row of the old Grandstand. Or, in more recent years, when I saw then "next-gen" players up very close for the first time before they were super famous — like Sloane Stephens, Madison Keys, Dominic Thiem, Sasha Zverev, Stefanos Tsitsipas, Karen Khachanov, Borna Ćorić. In 2019, I had the thrill of watching the young Felix Auger-Aliassime v. fellow Canadian Denis Shapovalov from the front row in Grandstand. In 2021, I was blown away watching Lloyd Harris for the first time from the second row of Armstrong and know tons of fellow fanatics who had the once-in-a-lifetime experience of seeing rising superstars Jenson Brooksby, Leylah Fernandez and Carlos Alcaraz up close on the outer courts.
Tip for serious players: After watching a ton of pro matches, I started challenging myself to watch more deliberately from the perspective of a player who wants to improve. I wrote down ten ideas for watching a pro match that may resonate with fellow fanatics who not only want to enjoy the drama of the match but also learn from it.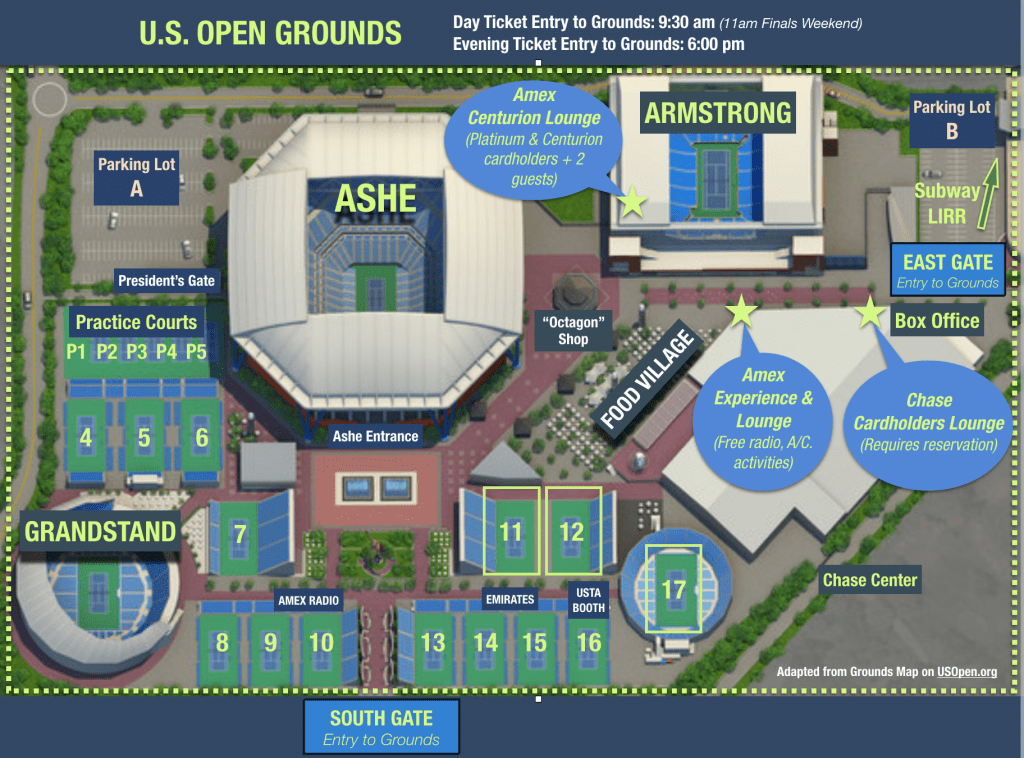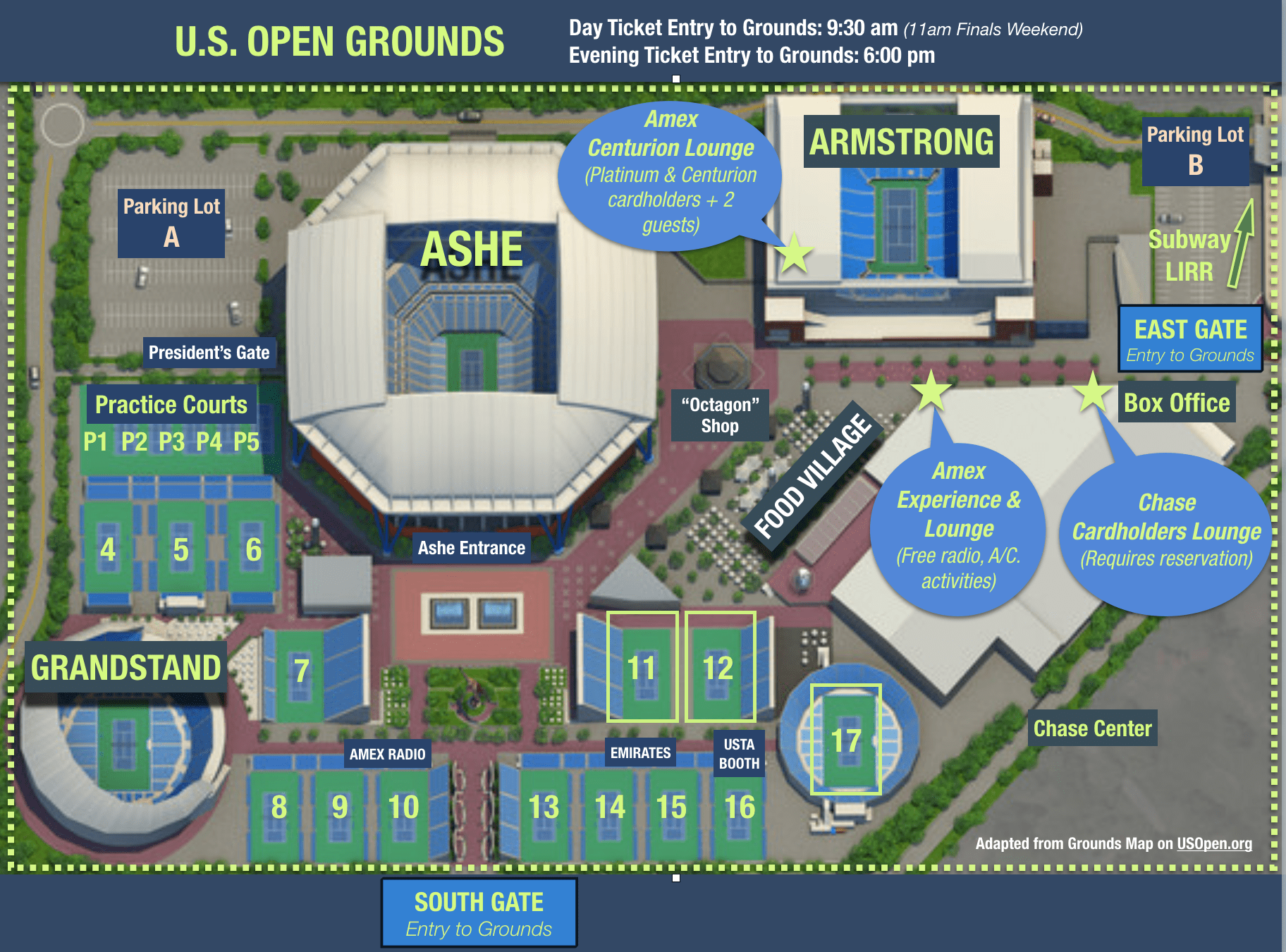 (Adapted from photo in "US Open Transformation Update")
Tip #2: If you're on a tight budget, try to attend during the tournament's first week (Monday August 29- Friday September 2) and purchase relatively inexpensive Ashe DAY session tickets. 
An Ashe day session ticket will get you access to all the courts on the grounds in addition to Ashe during the day, then enable you to stay on the grounds to watch matches on all courts except Ashe in the evening (Ashe day/night sessions are sold separately). You'll get hours and hours of tennis watching for your money, as many matches on the outer courts will go well into the evening. And if you can take a day off from work and go during these first 5 days, you won't have to battle hordes of fans for access to the non-Ashe venues– whereas things get very crowded Labor Day weekend.
Tip #3: Do NOT heed the conventional wisdom to buy a "Grounds Admission" pass to save money until you've explored whether reserved day session seats in Ashe or Armstrong are also available for around the same price!
Grounds admission tickets (cheaper tickets sold on the tourney's first 8 days that give access to all the courts except Ashe) can be a good deal, but there are often reserved Ashe Promenade-level tickets (and, occasionally, Armstrong courtside seats) available for nearly identical prices– making them far better deals. Ashe and Armstrong Day Session tickets gives you all the privileges of a "Grounds" pass with added bonuses. In particular, buying an Ashe or Armstrong reserved seat gives you rain insurance, because these stadiums both have roofs so matches cannot be rained out.
Tip #4: Go for quality over quantity. 
As a general rule, I encourage fellow fans to budget their time and money in ways that maximize the possibility of a few magical experiences versus a ton of forgettable ones. For instance, if you're opting between multiple days of cheap nosebleed seats in Ashe's Upper Promenade versus appying the same budget towards excellent seats for a couple sessions, I generally recommend the latter. (Note: if you're wondering whether it's worth it to spend a bit more to sit in the Loge level of Ashe versus the Promenade level, my answer is always yes).
BOX #1: UNDERSTANDING YOUR TICKET OPTIONS & HOW THE SCHEDULE WORKS
---
---
Ticket Basics: first-timers, please read carefully!
Reserved seats can be purchased for 3 stadiums (see grounds map above and detailed seating charts in Box #2 below):
ARTHUR ASHE: the biggest stadium (23,771 seats) where the iconic stars (Federer, Rafa, Novak, Serena) play. This is the only stadium that requires a reserved seat – there is no general seating. Ashe has a roof, so you never have to worry about getting rained out.
LOUIS ARMSTRONG: the second-biggest stadium (14,000 seats). Reserved seats are the only way to access the best courtside seats (general admission seating on a first-come basis is on the upper level only). Also has a roof in case of rain.
GRANDSTAND: the third-largest (about 8,000 seats). Courtside reserved seats are amazing, but general admission seating is also outstanding on this small stadium – but can be hard to get during popular matches.
Note: Field Courts #4-17 are entirely unreserved seating, open to everyone on a first-come basis.
Here are the different types of tickets you can buy:
1. GROUNDS ADMISSION (which I generally don't recommend purchasing, see my Top 10 Tip #3 above for why). Listed as "Billie Jean King National Tennis Center" on Ticketmaster and sold for the first 8 days (through Labor Day Monday Sep 6). Allows entry at 9:30am and gives you access to unreserved seating on a first-come basis to all courts except Ashe Stadium.
2. DAY SESSION RESERVED for either Ashe, Armstrong, or Grandstand stadiums, which allow entry into US Open grounds (at 9:30 AM through Quarterfinals, then 11:00 AM on the Friday-Sunday of finals weekend) and all the same privileges as Grounds Admission (above) PLUS a reserved seat. With a Day session ticket, you can stay as late into the evening as you'd like (and have the option to exit and re-enter). You can also access unreserved seating in any stadium day or evening (except Ashe, which requires an Ashe reserved ticket), including the upper deck seating for Armstrong's evening session. Note: you can exit and return the grounds during the day, but must re-enter no later than 6:00pm. 
ASHE DAY TICKETHOLDERS: Matches start at Noon and feature two matches. Ticketholders must exit the stadium after the second match (around 6pm), but can remain on the grounds as late as they'd like. Note, for the final two days of the tournament (Saturday Sep 10-Sunday Sep 11), there is no separate evening session on Ashe– so a Day session ticket gives you access to all matches scheduled for that day.
ARMSTRONG DAY TICKETHOLDERS: Matches start at 11:00am and feature at least 3 matches (four beginning Sunday of Labor Day weekend). Armstrong Day session ticketholders must exit the stadium after the final match (around 6pm), but can remain on the grounds as late as they'd like. Armstrong reserved seats are only sold for the first 8 days of the tournament (through Monday Sep 5).
GRANDSTAND DAY TICKETHOLDERS: Matches start at 11:00am and feature at least 4 matches (five on the first two days of the tournament). Grandstand reserved seats are only sold for first 8 days of tournament (through Sunday Sep 5). There is no separate evening session on Grandstand, which means ticketholders get to see more matches.
3. EVENING SESSION RESERVED for either Ashe or Armstrong Stadiums, which allow entry into US Open grounds at 6:00 p.m. and gives you access to unreserved seating on a first-come basis to all field courts PLUS a reserved seat in either Ashe or Armstrong.
Evening matches on both Ashe and Armstrong start at 7:00 p.m. and feature two matches.
Ashe has evening sessions on first 12 nights of the tournament (through Friday Sep 9) – after which only Day session tickets are sold
Armstrong has evening sessions for the first 6 nights only (through Saturday Sep 3)
Entry and re-entry rules:
To enter the US Open grounds, you must pass through security then have your ticket scanned at either the EAST GATE or SOUTH GATE (see map above).
If you have a reserved seat in a stadium, you'll have your ticket re-checked upon entering that stadium.
If you have tickets for Day and Evening sessions (Ashe or Armstrong) on the same day, you will NOT need to exit the US Open grounds and re-enter again. Your ticket will be checked as you enter the stadium.
If you are in Armstrong for the Day session (either Courtside reserved or GA seating), you'll need to leave your seat between Day and Evening sessions as they clean up. However, you may stay inside the concourse area of Armstrong (the inner-stadium areas with food stands). As such, if you were in the stadium for Day and want to line up for GA seating for Evening session, you have an advantage: you can stick around and wait in line upstairs until ushers start letting people back to seatsIf you leave the stadium during this "in between" period, you won't be allowed to re-enter for a brief  time (They don't allow anyone new to come in for a period while they're cleaning up).

** I took the photo above at the 2016 US Open from a corner courtside seat in Ashe watching the Nadal-Pouille round of 16 match on Labor Day.
---
2022 US OPEN SCHEDULE
Below is my annotated version of the overall tournament schedule (the official version is here). To get a sense of what kinds of matches are played on which courts for specific dates, I recommend reviewing the 2021 Daily Schedule of Play, 2020 Daily Schedule of Play and 2019 Daily Schedule of Play** for the day(s) you're considering attending. Note: the 2021 and 2019 schedule are most indicative of what to expect, as 2020 was held without fans. **US Open took down their online version of the 2019 Daily Schedule, so the link is to the Wikipedia version, which doesn't cover all grounds courts.
Important: The US Open will likely release the 2022 Tournament's Day 1 and Day 2 Schedule on its Daily Schedule of Play page and the US Open app on Friday August 26 (late afternoon/early evening).
Aug 29-30 (Monday-Tuesday): Men's & Women's 1st Round
* Separate Day (11am) & Night (7pm) sessions on Ashe & Armstrong
* Aug 30 Ashe Evening session features Opening Night Ceremony prior to regular matches
Aug 31-Sep 1 (Wed-Thursday): Men's & Women's 2nd Round
* Separate Day (11am) & Night (7pm) sessions on Ashe & Armstrong
+ Doubles 1st Round (outer courts)
Sep 2-3 (Friday-Saturday): Men's & Women's 3rd Round
* Separate Day (11am) & Night (7pm) sessions on Ashe & Armstrong
+ Doubles 2nd Round, Juniors (outer courts)
Sep 4 (Sunday): Men's & Women's 4th Round ("Round of 16″)
* Separate Day (11am) & Night (7pm) sessions on Ashe
* Day session ONLY on Armstrong (11am)
* Note: In 2019, Armstrong and Grandstand both featured one men's singles R16 match (others on Ashe)
+ Doubles 3rd Round, Juniors (outer courts)
Sep 5 (Monday): Men's & Women's 4th Round ("Round of 16″)
Note: Men's Round of 16 Singles matches on this day will be played exclusively on Ashe and Armstrong, not Grandstand!
* Separate Day (11am) & Night (7pm) sessions on Ashe
* Day session ONLY on Armstrong (11am)
+ Doubles 3rd Round, Juniors (outer courts)
Sep 6 (Tuesday): Men's & Women's Quarterfinals (Ashe Stadium only)
* Separate Day (11am) & Night (7pm) sessions on Ashe
+ Men's Doubles Quarterfinals (Armstrong)
* Armstrong and Grandstand only feature Doubles matches from this point on, so don't purchase Armstrong reserved tickets for September 7 unless you want to see Doubles.
Sep 7 (Wednesday): Men's & Women's Quarterfinals (Ashe Stadium)
* Separate Day (11am) & Night (7pm) sessions on Ashe
+ Women's Doubles Quarterfinals (Armstrong)

Sep 8 DAY

 (Thursday Noon): Free "Community Day" (Noon)**
** Free grounds access to watch Men's & Women's Doubles Semifinals + Wheelchair and Junior matches
Sep 8 EVENING (Thursday at 7pm): Women's Semifinals (Ashe Stadium)
* Ashe Evening Session ticket gets access to both women's Semifinal matches
Sep 9 DAY (Friday Noon): Men's Semifinal #1 (Ashe Stadium 3:00pm). Note: this is the first year the Men's Semis will take place in two separate sessions (1 Day, 1 Night) so you need tickets to both sessions if you want to see both matches.
* Preceded by Men's Doubles Final or Mixed Doubles Final (Noon)
+ Wheelchair and Junior matches (outer courts)
Sep 9 EVENING (Friday 7pm): Men's Semifinal #2 (Ashe Stadium)

Sep 10 DAY ONLY

 (Saturday Noon): Women's Final (4:00pm)
* Preceded by Wheelchair Finals (Noon) and the Mixed Doubles Final or Men's Doubles Final
Sep 11 DAY ONLY (Sunday Noon): Men's Final (4:00pm)
* Preceded by Wheelchair Finals (Noon) and Women's Doubles Final (1:00pm)
+ Wheelchair and Junior Finals on outer courts
Here is the ESPN Broadcast schedule (updated link to come)
Tip #5: If your budget can swing it, I strongly recommend getting a courtside reserved seat in Louis Armstrong stadium for Aug 31 – Sep 5 and/or in Grandstand on Sep 2- Sep 4. 
Louis Armstrong (14,053 seats) and Grandstand (8,125 seats) are the other two main show courts after Ashe Stadium – and they offer a much more intimate experience. A reserved courtside ticket for either can give you access to thrilling matches and players up close that you'll never forget.
The first time I did this in 2010 I saw an unforgettable marathon slugfest between David Ferrer and Fernando Verdasco from the FIRST ROW BASELINE! I had arrived that morning at 11am and left around 11:30pm at night, leaving my seat only twice for a total of about 9 minutes for rapid-fire bathroom breaks and to grab snacks so I wouldn't want to miss a second of the action. Ever since, I've made it an annual tradition to go with friends to Armstrong during the 3d Round or Round of 16. In 2019, I got to see 2021 Wimbledon finalist Matteo Berrettini crushing balls in the Round of 16 on Armstrong from the second row (and my phone exploded with texts when my friends and I were spotted on ESPN frequently cheering for him). I've had similar transporting experiences in Grandstand over the years – most recently when I sat first row behind-the-server for a match between Auger-Aliassime and his Canadian buddy Denis Shapovalov.
Both stadiums also feature general admission seating on a first-come basis, but getting good GA seats can be tough and involve long lines for the higher-profile matches and particularly during August 31 – September 5– so having a reserved courtside ticket gives you the dual benefit of skipping long lines plus plus incredible proximity to the players. Important: Grandstand features only doubles matches on Monday September 5, so only purchase for that date if you want to see great doubles play.
BOX 2: WHERE/WHEN TO GET THE BEST DEAL ON US OPEN TICKETS?
Individual tickets will go on sale on Monday June 6 at 9:00am EST on the official US Open Ticketmaster site and numerous reseller sites. My most important advice: Do NOT rush into a buying decision! Do your homework first to understand how it all works and all available options to get the best value for your budget. 
For the vast majority of fans, I do not recommend purchasing tickets of any kind before June 6 (this includes subscription tickets, pre-sale tickets, or resale tickets) for reasons I outline below and in my FAQ section. In the vast majority of cases (unless you are targeting the cheapest nosebleed seats in the upper half of the Promenade deck) you will be able to find better options at lower cost throughout June-August if you're willing to exercise a little patience.
Every very year, tens of thousands of fans race to be among the first to buy seats when individual tickets go on sale to the public on Ticketmaster – and many encounter the frustrating reality is that it's never easy to find great seats on that first day, even if you jump online the instant tickets go on sale. This is because (1) most of the best seats are pre-allocated to corporate sponsors or series subscribers who have waited years to upgrade; (2) the tournament holds back on releasing all the tickets initially, and tends to trickle more out in the weeks/months that follow (however frustrating, I've learned this is fairly common practice for event ticketing). Without knowing better, too many eager folks panic and buy on that first day without realizing that better options usually show up later.
Here's the good news: if you're willing to exercise patience and do a little work, there are always good deals to be found throughout the summer. This is because (1) more and more people will end up posting their tickets for resale on Ticketmaster or other reseller sites; and (2) USTA ends up releasing more standard price tickets as the summer goes on (inexplicably, at random times). I have on many (many!) occasions found better seats on the resale market for the same or less price than standard no-fee seats.
Below are the sites that will give you access to the BEST INVENTORY of available tickets (both face-value and resale). Before buying, be sure to compare options and prices.When searching, try sorting by price, section, row… Take your time, get a good sense of what the prevailing price for what you want, and when you spot a good deal, grab it!
1. ALWAYS (always !) first check the official Ticketmaster US Open tennis tournament site. I strongly recommend looking on a computer/web browser for fastest navigation and the best options for viewing availability (be sure to use the "map view" of individual seats by clicking on any individual section, try sorting lists in different ways, and use multiple browser tabs to compare across various sessions).
This site features both (1) any standard tickets (non-resale, face value) that may be available (shown as "blue dots" on the detailed seat map for each session – most often only in Promenade, but occasionally pop up in Loge and Courtside sections throughout the summer); and (2) resale tickets (shows as "red dots" on the detailed seat map for each session).
Surprisingly, the standard (blue-dot) tickets are not always the best deal even after factoring in resale service fees, as some sellers lower prices below face value to attract buyers so they can recoup at least some of their investment.
Important Caution (!): Blue dots are sometimes used to indicate very expensive premium "Hospitality" seating packages, which include access to unlimited food and drink and a private lounge "1968 Room" or Loge Overlook"), but are outrageously priced and not worth the premium for the vast majority of fans.
Tickets remain on sale for 59 minutes after a session begins as long as tickets remain (e.g., if an Ashe Day session begins at Noon, tickets remain on sale until 12:59pm). For Men's Semi's in 2019, Ticketmaster kept sales open for standard seats only another 3 hours beyond that (which were in most cases about double the cost of what was available on the resale market).
One of the biggest benefits of purchasing through Ticketmaster or Ticketmaster Exchange is the incredible ease of putting your tickets back up for sale if your plans change or you decide you want to switch days or tickets later.
You must have a US bank account to put your tickets up for resale on the Exchange; and you must purchase tickets online to resell them (tickets purchased by phone cannot be resold).
2. In addition to the above, it often pays to check 1-2 reseller sites like those below to see if you can find an even better deal for comparable seats.
If you search on both the official US Open Ticketmaster site PLUS one of the sites below to compare, you'll get tremendous visibility into what's available and the range of prices on the resale market. Most of these sites keep selling tickets after a session begins for several hours (versus Ticketmaster, which stops selling 59 minutes after the session begins). Trusted reseller sites include: 
3. Check out the exact location of individual seats for tickets in each stadium before buying them. Learn how and see seating charts and shade maps here.
4. Avoid Craigslist or other non-certified resellers!
I've heard tons of stories over the years of folks who got scammed or had to go through considerable hassle to obtain tickets. Not worth the risk. Also know that NYC law prohibits reselling "scalping" 1500 feet away from the venue (which is effectively everywhere off the subway at the US Open), and they have undercover police on site cracking down on both sellers and buyers.
5. If you're going with a friend(s), consider buying a combination of cheap and amazing seats.
This way, you can split the cost and trade off time in the great seat. E.g., you could trade time in seats in Promenade vs Courtside, or between stadiums (in Ashe vs a reserved seat in  Armstrong or Grandstand). I do this every year with my best friends.
Note: all tickets (including through Ticketmaster) are offered as MOBILE ONLY tickets (i.e., "Your Phone is Your Ticket") – which requires having a smart phone with internet/wifi capability.
If you do not have a smart phone (either iPhone or Android) and you purchase through Ticketmaster, they WILL help you – but you'll have to contact their customer service directly and have them make an exception and transfer your tickets to "Will Call" pick up location on site. If you don't own a smart phone and are purchasing resale tickets during the tournament, I'd recommend buying exclusively through Ticketmaster and not taking chances with other resellers.
Finally, if you want to explore package deals (combining tickets with optional hotel, transportation, VIP perks, etc), there are several trusted options including Championship Tennis Tours,  Grand Slam Tennis Tours, and Steve Furgal's International Tennis Tours.
Tip #6: If you've never done it, consider splurging once on a courtside Ashe seat — if possible after the 2nd round of play when matches start getting more competitive. 
After dreaming for years of the possibility, I finally bit the bullet to invest in courtside seats in 2011 for the first time. It was bliss. Ever since, I've made an annual pilgrimage to experience Courtside with a few close friends at least once. What most people don't understand about the mammoth Ashe stadium until they've been in person is that even Loge seating is fairly high up because (a) the stadium is very vertically oriented (seating is on a sharp incline) and (b) there are two levels of suites above Courtside before the first row of Loge even begins. So when you're down in Courtside, you feel like you're in another world. The feeling of being that close to greatness in Ashe's electric atmosphere is pretty amazing. If going for a courtside seat, keep in mind that Row E is first row in sections 1-6, 31-40, 65-67; and Row F is first row in sections 7,9,11, 26, 29, 30, 60 63, 64, 41, 42. If courtside is out of your budget, aim for lower Loge rows A-C when possible.
Here's a video I shot of Federer from the front row in 2011, the very first time I sat courtside at Ashe. I found a great deal on a resale ticket (baseline section 58) for Labor Day during the Round of 16 and got to witness Federer perfection from a few feet away. Best money I've ever spent.
BOX 3: Frequently Asked Questions (FAQs)
Here are the questions I get most often, along with important stuff I wish I had known myself before buying tickets the first time…
---
FAQ #1: How can I predict when Djokovic, Medvedev, Osaka or my other favorite player will play?
You can only make any predictions and educated guesses after the DAY ONE schedule has been posted.
In 2021, once the Day 1 and 2 schedules were published for Ashe (on the Daily Schedule of Play page here), we knew which halves of the "Draw" play on which day — so we could predict which days favorites would be scheduled if they continue to advance. 
In 2021, note that players in the Bottom Half of the Draw (both Men and Women) were scheduled for their first match on Day 1 (Monday August 30) — so they were next be scheduled on Day 3 (Wed) if they won, then again on Day 5 (Fri) and Day 7 (Sun) if they kept winning. Players in the Top Half of the Draw were scheduled for their first match on Day 2 and played again on Thurs, Sat, and Mon if they advanced.
Important: there is never any way to predict with absolute certainty whether a player will be on a Day or Night session:
Officials tend to alternate scheduling superstars between Day and Night sessions on Ashe—but it is very risky to count on them doing this or to make predictions, as there are exceptions and big scheduling surprises every year. In 2019, for instance, Djokovic was scheduled for 3 consecutive Ashe Night sessions and Federer 3 consecutive Ashe Day sessions (Days 3, 5, and 7).
Contrary to popular belief, the US Open does not schedule the big names exclusively for night sessions! They really do "spread the wealth" and try to be fair to players by alternating between Day and Night sessions. The one exception to this is Quarterfinals, when they have historically scheduled the biggest starts for the night sessions (probably a function of ticket sales and crowds, as evening quarterfinal sessions are much better attended and average prices are much higher).
To be absolutely sure you see your favorite player, consider waiting until the schedule is published the day prior (start checking frequently early afternoon, usually out by 5:00pm), then immediately go to the official Ticketmaster US Open page (or other resale sites like Stubhub) to grab a resale ticket. This strategy requires, however, that you monitor the ticket situation closely in the days prior and are prepared to act immediately when the schedule is announced. Also, if you see tickets becoming scarce and prices going up in the days prior, you may conclude it's worth taking a chance and purchasing based on an educated guess.
One sure way to see your favorite player up close is to watch them when they're scheduled for practice on the practice courts. See Tip #9
To get a general sense of scheduling trends for specific days during the tournament, look at previous years' schedules: 2021 Daily Schedule of Play, 2020 Daily Schedule of Play and 2019 Daily Schedule of Play** for the day(s) you're considering attending. Note: the2019 schedule likely to be most indicative of what to expect, as 2020 was held without fans.
FYI: A fun way to get your head around the draw/brackets — and potential match-ups — is to enter the official US Open "Million-Dollar Bracket" contest. Each submission that correctly picks all 127 matches in the men's singles bracket will share from a prize pool of One Million Dollars ($1,000,000). It's also a great way to become more familiar with some players you may not have heard of yet but probably will soon. 
---
FAQ #2: How do a see the exact location of seats that I might buy (in Ashe, Armstrong, or Grandstand)?
Go to Ticketmaster, click on any session for the stadium in question, choose Map View, then mouse over or click on any of the dots to see the exact section, row and seat #.
See all the seating charts below
Note that for Ashe Courtside seats, each lettered "row" (e.g. "A" or "H") actually stands for two rows: e.g., "Row A Seat 5" might actually be in the second row, Row C Seat 6 is probably 6th row). Courtside Sections 48-49, 52-63 and 66-67 go actually have two rows of "AA" seats followed by rows A-H.
Also take note of where the umpire sits (you'll see a little chair icon on each map — and avoid courtside tickets very close up in sections right behind or next to the chair (please note: the umpire chair is never a big obstruction, but it might be a minor annoyance to some).
To make matters more complicated… first row for Behind-the-Server seats Courtside begin with E or F: Row E is first row in sections 1-6, 31-40, 65-67; and Row F is first row in sections 7,9,11, 26, 29, 30, 60 63, 64, 41, 42.
In short, check out the detailed Seat Map on Ticketmaster view before buying to see the exact location.
KEY SEATING CHARTS AND SHADE MAPS
Arthur Ashe Stadium
Louis Armstrong Stadium
Grandstand
---
FAQ #3: When should I buy? Will sessions sell out if I wait too long? Will prices go down or up over the summer? What are average prices? What's a "good deal"?
The frustrating reality is: "it depends." Buying tickets for the US Open can be like investing in the stock market: knowledge and judgment dramatically raises the odds of a good decision, but there are always surprises due to the number of variables involved. Standard (non-resale) Ashe tickets usually sell out fairly quickly (except for Ashe stadium's "Promenade" section, where there are usually quite a few available throughout the summer). However, there are almost always resale tickets available until the very last moment because thousands of fans post their tickets for resale. You can almost always get tickets closer to the tournament – and you may end up finding a phenomenal deal if you are patient. However, waiting longer to purchase requires you to have a higher risk tolerance than those who'd prefer the certainty around making arrangements sooner. Resale ticket prices can vary significantly, especially closer to the tournament. Prices can plummet when lineups are predicted to be lackluster… or they can skyrocket if fans speculate that certain marquee players (like Federer) will be scheduled. In 2017, after it became clear  that both Federer and Nadal would be scheduled on the same days throughout the tournament, prices spiked sharply for the days they'd be scheduled if they advanced and dropped significantly for the opposite days. Then, after Federer got knocked out in quarters, prices for semis and finals declined quite a bit. The best advice I can give is to familiarize yourself with average prices on Ticketmaster for the days/sessions you are considering over the course of several days so you can recognize a good deal when you see one and spot the trends.
UPDATE (July 23, 2021): See my chart showing the 2021 price ranges for regularly priced "standard" tickets.  If you find resale tickets within these price ranges or less, that's one sign of a great deal. 
---
FAQ #4: Which seats get the most shade?
For Ashe: The roof creates a massive amount of natural shading all day for a large number of seats. The sections that get the most shade are in the South and West sections of the stadium; Next-best for shade are in the North. Sections with the most sun (to avoid for Day sessions) are on the East side. Click on the photo/map below for details. For the new Armstrong: Situation is similar to Ashe, now that there's a roof. In short, Sections 1-8 are best for shade.  West-side sections (Chair Umpire side) get the most shade; and when not in shade, at least the sun is at your back. Rows K and above (approximately) are shaded soonest (by about 12:30pm), then the sun gradually moves down to cover all rows by about 2:00 pm. East-side sections get the least shade and are in direct sun most of the afternoon. However, Rows T and above (approximately) get shading all day. South sections (behind-the-server) get more shade than North sections: South sections start out almost entirely shaded until about 1pm, then the sun starts wrapping around clockwise, such that sections 17-18 end up losing shade mid-afternoon. See photo/map below. For Grandstand: There's much less shade overall, however South and West sections are similarly better because sun is more at your back. General admission seats that are higher under the overhang, especially Southwest corner, get the most shade.
---
FAQ #5: What happens if it rains?
The good news: Now that both Arthur Ashe and the new Louis Armstrong stadiums have roofs, now up to 37,771 more fans each day will be able to see matches even if it rains. The bad news: if you invest in great seats for Grandstand or simply buy a Grounds Admission pass, there isn't much consolation. Keep in mind that weather forecasts are notoriously unreliable and can change on the hour (I have literally been at Flushing Meadows when my iPhone said it was raining and it wasn't). There's always hope that showers will pass quickly. In the highly unlikely event of all-day rain out or under 60 minutes of play (which happen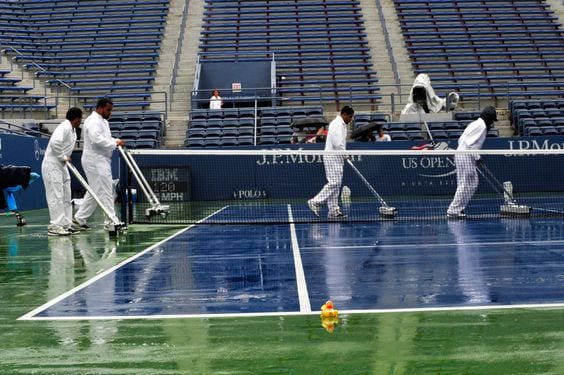 ed to me unforgettably in 2012 on the day I treated 6 friends to pricy Armstrong front row seats), the session may be rescheduled until the next day and your ticket may be honored then — or, you MAY be able to trade in tickets through the US Open for another session this year or next year if (and only if) you purchased directly from Ticketmaster (see the somewhat complicated US Open Inclement Weather Policy). In the worst case scenario, I recommend looking for the silver lining: you'll be surrounded by a ton of other fans with whom you can grab a US Open specialty cocktail, huddle under a shelter, and watch an Ashe match together on a big screen.
---
FAQ #6: Should I buy a subscription or multi-session ticket plan?
For most serious fans, I don't recommend it. Most multi-session plans for Ashe (and first-time subscription plans) for are only for "Promenade" seats — so high up in that huge stadium you'll end up watching a lot of the match on the Jumbotron or through binoculars. It could take years to get the chance to upgrade your seats to Loge (only available if you purchase the very expensive full-series plan). For the full series ticket plan price ($2,228 per ticket in 2016) you could buy several amazing seats for multiple sessions over the tournament (or 2 excellent seats for the Men's final). Finally, there is always a glut of Promenade Ashe seats on the resale market, so if you buy an entire series of Promenade seats you may have a challenge reselling any you don't need.
---
FAQ #7: Which are the best sections/seats with the best views?
The vast majority of people would consider "behind the server" seats (i.e., those on North or South ends of the courts) to be preferable — and prices generally reflect this. For first-timers, this area would be my top recommendation.
This is the vantage point they use for filming for broadcast, because it enables you to follow point construction and see the court from the perspective of the player on your side of the net.
From these seats, you'll never have to move your head side-to-side to follow the ball.
FYI: seats in these sections start several feet higher in these seats than sections on the side (this is why these rows begin with higher letters E instead of AA or A).
Corner sections are also widely considered to be highly desirable — and for good reason. They carry many of the same advantages of the above, with the added benefit you can see the player on your side of the net from the front as their hitting the ball not just the back. Here's a photo from the new Armstrong from that perspective.
As a serious player myself, I personally love sitting courtside as close as possible in lower rows of sections where seats are practically on the court, perpendicular and near to the actual baseline (e.g., section 58 in Ashe) because it gets me physically even closer to the players and more on the same level. Sitting in the lower rows, I feel even more like I'm on the court with them. I feel the speed of the game. In these seats, I personally enjoy watching one player at a time sometimes to see their footwork, how they prepare for the next ball, etc. I took the video of Federer I included in my post from this perspective (from section 58). Here's a photo from Ashe courtside from that perspective.
When considering Loge or Promenade seats in Ashe, I generally recommend prioritizing seats that are in lower rows regardless of location— simply because Loge (and especially Promenade) are already quite high up to begin with. For Day sessions, I strongly urge folks to factor in potential shade benefits (seats on West side, SouthWest, and Northwest tend to get the most shade relief). See FAQ #4 above. With regard to the umpire chair, it really is never an obstruction but may feel a bit of an annoyance to some if you're sitting in very low rows on that side — simply because you may not always have a complete view of the player on the other side of the net. See this photo for example. I personally don't mind this for reasons I mention above, and this is ONLY an issue when courtside in very low rows.
Tip #7: The night before you go
Check the app or click this link for the detailed daily Schedule of Play for the following day's schedule and make your game plan so you can beeline directly to the court where the match you care about will happen (including, potentially, the practice courts– see Tip #8 below). You should also download the official US Open Everywhere App (search on app stores for "2022 US Open Tennis") to track the latest schedule, scores and live updates. If someone you really want to see will play on Grandstand or Armstrong, get to the grounds as early as you can so you can be among the first in line when the gates open at 9:30am then speed-walk to those stadiums and grab the best seat you can. Check out the day-to-day coverage at SI.com's tennis page, which is always terrific.
Tip #8: Check out the practice courts for close sightings of the superstars
Superstars can include: Roger Federer, Rafael Nada, Novak Djokovic, and Serena Williams. Check the practice schedule the night before (and morning of) to see when/where players are practicing (you can also see it on the official US Open App).
Note: the best time to see top players practice without fighting crowds is during the free Qualifier Tournament and week before the main tournament (see my Tip #10 below).
Tip #9: Do not drive unless you really have to.
Option 1: take the subway #7 train (see 7 train schedule here, runs 24 hours, PM times in bold, see stops here, which include Grand Central).
Option 2: (FASTEST, only 15 min from Midtown NYC): Take the LONG ISLAND RAILROAD (LIRR), which departs from Penn Station from the new "Moynihan Train Hall" (entrance on 8th Avenue between West 31st-33rd, directly across from Penn Station). to the "Mets-Willets Point" station (the signage will say either "GREAT NECK" or "PORT WASHINGTON" – double check the train number before boarding). Look for the "Port Washington" train on the monitors to find the right track.
To purchase LIRR tickets: Download the very easy-to-use MTA eTix app. Within the app, just create an account (takes literally seconds), click "Buy Tickets" select Penn Station first then "Mets-Willets Point", purchase either one-way or R/T or several (peak or off-peak), and ticket(s) will then be in your "wallet" in the app for you to use whenever you like; you just have to press "activate" right before you board your train of coice.

You can also buy a ticket at Penn Station in the Moynihan Hall using an ATM-like ticket machine (or at the window).
For return trips from the Open, you'll need to show your ticket at the US Open's LIRR entrance (top of the ramp near the East Gate) — the individuals checking tickets can also sell you a one-way return ticket if you need and you can use a credit card (tip: you do NOT need to line up at the ticket window!!).
Check this page for the special LIRR schedule for 2021 US Open (not yet available)
If you fly into Laguardia (LGA) you can take the NYC "Q48" public bus from Laguardia to the US Open – only about 5 minutes away (the stop is listed on the MTA website as "ROOSEVELT AV/WILLETS PT BL STATION."
If you must go by car… 
See the US Open's driving directions and details on parking lots. (Public parking costs around $25).

GPS address to the general area is "122-02 Roosevelt Ave, Flushing, NY 11368." GPS to Citi Field is 123-01 Roosevelt Ave, Queens, NY 11368.
US Open recommends using "Grand Central Parkway exit 9E or Whitestone Expressway (678) Exit 13D."
You'll see signs and be directed to available public parking ($25 for cars).

Citi Field will be the primary lot ("Yellow Zone" parking)

except

when the Mets are playing at Home, which this year are Tuesday Aug 31, Wed Sep 1, Thurs Sep 2, Friday-Sunday Sep 10-12 – see the Mets home schedule): on those dates, according to the US Open you'll be "directed to guest parking lots 1-6" (which the map confusingly labels as A-H– sorry I can't provide any more clarification on this!).

The entrance to Citi Field parking is located at 126th Street and Shea Road, Corona, NY.  GPS address to that intersection is "126 Roosevelt Ave, Flushing, NY 11368.
Consider buying a parking pass on a resale site to lots A, B, or C (which are closest). Here's the detailed transportation map showing parking lots.
Fellow fan Harry pointed out: "If you are willing to walk a bit, street parking underneath or south of Highway 495 is a viable option."

Uber/Lyft/Taxi TO the Open:

I'd recommend putting in "Mets-Willets Point" as the destination (not Billie Jean King National Tennis Center) – this will take you directly to the spot on Roosevelt Avenue where the 7 train lets people off, then you can just walk up the stars and across the foot bridge to the East Gate.

If considering a taxi or Uber/Lyft home after a night session, be prepared for a long wait, hassles, and a very (very) expensive ride with surge pricing. Getting an Uber/Lyft after an evening session when literally thousands of others are trying to do the same can be a nightmare. I tried it in 2016 as an experiment and here's what happened: (1) Had to go to designated "zone 3" pickup area for cabs and users– a long walk from the South Gate near the globe (trying to meet them by the 7 train at Roosevelt is really tough given heavy traffic); (2) three Uber drivers cancelled on me after accepting before I finally get one; (3) Surge pricing was in effect, with a ride that should have cost $45 being quoted over $120.
If you must hire a car back home after a night session, you might try the following instead:

(1) Reserve a car service pickup in advance. I've used Riverside and they're always reliable (and they have an app as well) – but you can find many other car services in NY if you Google.
(2) Take the LIRR or 7 subway train into Manhattan (or to another local stop like "Junction Blvd"), then call Uber or a hail a cab
(3) Try to hail a cab on the street just under the 7 train (Roosevelt Ave); or download the "Curb" app for NYC taxis and hail one that way from that location.
If you're lucky enough to be driving a Mercedes to the Open, you'll get complimentary parking (Mercedes-Benz is a major sponsor)
Alternatively, consider staying in Queens and biking! Fellow fan Mark shared his experience in 2019: "We packed our bikes and stayed at a nice AirB&B on Queens Boulevard, a little over 2 miles from the stadium. Queens has a great network of dedicated bike lanes and a friendly attitude toward bikers, and best of all – the terrain is flat! Once at the grounds, there are bike racks across from the South Gate entrance and in front of the security tent that handles baggage claim. It is a fun and hassle-free way to make the commute for anyone that so inclined!"
Box 4: What to Bring and What NOT to bring (Backpacks not allowed!)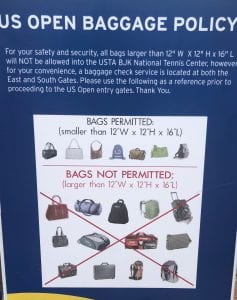 To help clarify some common confusions:
You CAN bring a drawstring bag (click here for example) but NOT a backpack with two straps
You CAN bring a digital camera with video capabilities (however they do NOT allow "Video cameras or recording devices", which includes GoPros)
You CAN bring a plastic or metal water bottle 24 oz or less to refill on site (but NOT anything glass!)
You CAN bring a fanny pack: but if you do you'll still need to go through the "with bag" security line
You CAN bring sunscreen in lotion form only, NOT aerosol cans
As of 2021, you are NOT allowed to bring any outside food or drink (according to the bot in the chat function on usopen.org) even though this isn't explicitly stated on the prohibited items list.
Be prepared to wait in a potentially long security line if you have any bag at all (i.e. an enclosed object that doesn't fit in your clothes), whereas you can breeze through a separate express line for those without bags.
There is storage outside both East and South Gate entrances if you need it: $5 for small items, $10 for large items (even suitcases OK). Note: storage is FREE for American Express cardholders.
Before Leaving, Don't Forget…
Download your mobile tickets from to your mobile wallet (e.g. Apple Wallet or something like WalletPasses on Android)
Sunglasses and sunscreen (lotion not spray)!
A backup phone charger (e.g. a Mophie) if you have one
If taking subway (7 train), fill up your subway Metrocard in advance for your return trip in advance if taking 7 train so you don't have to wait in long lines; If taking LIRR (my favorite) you need to get your ticket before boarding
A small umbrella if rain may be in the forecast
Dress in layers as it can get hot during the day and occasionally chilly at night
Contacts wearers: A very small bottle of contact lens solution in case you get something in your eye
FYI: There are two entrances to the grounds: (1) the main entrance, the "East Gate," located near the Subway/LIRR; and (2) the "South Gate" entrance near the iconic World's Fair "Unisphere" (globe) – see map above. While lines tend to be shorter by the South Gate, the wait may end up being about the same because there are fewer attendants and metal detectors.
Box 5: FREE ADMISSION ON THE SECOND THURSDAY FOR DOUBLES SEMIFINALS & MORE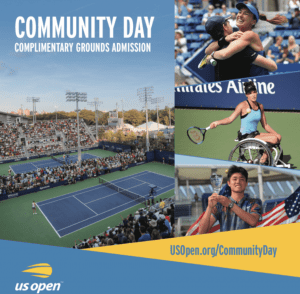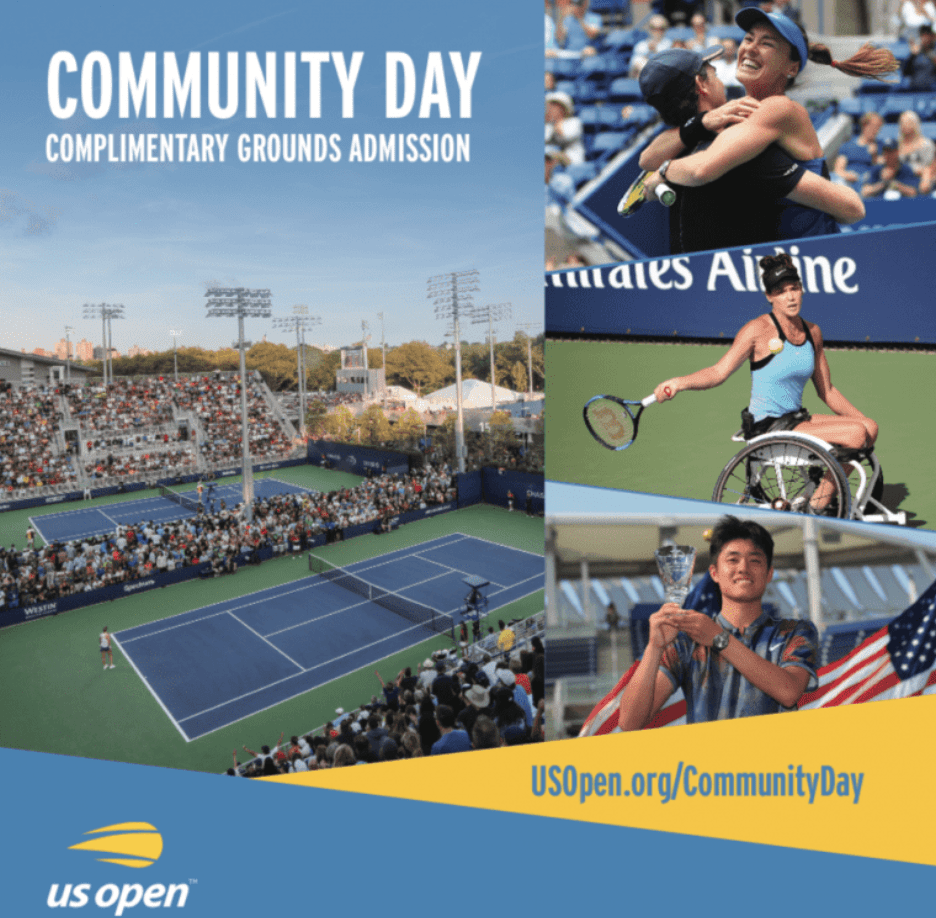 Men's & Women's Doubles Semifinals Plus the World's Top Wheelchair, Junior, and Collegiate Players – Gates open at Noon

One of the best-kept secrets is that you can usually enter the US Open grounds for free on the second Thursday (gates open at noon, must arrive before 5pm) and see the Doubles Semifinals plus all-star wheelchair players, the world's top juniors, and incredible collegiate players. If you are a serious tennis fan, particularly if you're a doubles player, this is a day not to be missed.
For the past couple years, officials have scheduled top wheelchair players on Arthur Ashe stadium. I went and it was a thrill to sit courtside at Ashe and to cheer on the incredible wheelchair athletes. Among the world-class wheelchair players to watch for:
In 2021, Alfie Hewett and Gordon Reid (pictured here) completed the Grand Slam for the first time in wheelchair tennis history.
The world's #1 in the "Quad" (quadriplegic) division (ranked #1 in singles and doubles), American David Wagner. Born in 1974, David became paralyzed from the mid-chest down at age 21 when he was playing frisbee on the beach and a wave tossed him head-first into the sand. With only thirty percent function in his hands, David plays by taping the tennis racket to his hand. And by all accounts he's a super cool guy besides being an extraordinary athlete .
A FEW MORE RECS
Scan this outstanding list of "59 Insider Tips for Attending the U.S. Open" by the brilliant Sports Illustrated writer Jon Wertheim. Note: if you haven't yet seen Wertheim's 2018 Strokes of Genius documentary on the Federer/Nadal rivalry, RENT IT! It's one of the best documentaries on anything I've ever seen, beautifully capturing so many of the unique aspects of tennis that make us so passionate about our sport.
Bring a backup phone charger if you have one. There are some re-charging stations, but after all the photos and video you take with your phone and use of Wi-Fi you'll run out of juice quickly.
Foodies: Check out this good article summarizing food options at the 2021 US Open, including vegetarian/vegan options (thank you Courtney!).

Korilla BBQ is probably my favorite, but lines are usually among the longest. Poke Yachty is really good and lines move quickly because they've nailed their system. FIELDTRIP looks amazing (haven't tried yet). Lines and wait times for food at Eataly on Ashe Courtside level (esp pizza) were excruciatingly slow on Day 1.
Bring your American Express card if you have one! See Amex Benefits at US Open here. Amex has 3 lounges open in 2021:

(1) Amex Patio (by court 17) – Open to anyone with an Amex card, but reservations not possible so may be a wait;
(2) Amex Card Member Lounge & Patio (2nd level of Armstrong): Open to anyone with an Amex card, but reservations not possible so may be a wait; (3) 
Centurion lounge in Armstrong (Exclusive to Platinum and Centurion Members): Make a reservation on Resy here.

In addition, Amex cardholders are entitled to free bag check at East or South Gate; a one-time $20 statement credit when you spend $100 with your enrolled card at participation Open merchants; and a free earpiece/radio to hear ESPN match commentary.    
If offered in 2021 (not clear yet), sign up for the "Fan Pass" on the app to be entered into a sweepstakes and track your activity on site. Scan your personal barcode at various stations around the event to collect "badges," which can redeem for prizes.
Do your shopping for US Open gear early in the tournament – stores run out of the popular sizes fast.
$25 Grounds Admission tickets are now available for Finals Weekend (Fri-Sun Sep 10-12) on this Ticketmaster page. Note: these grounds ticket options are not yet showing up on main Ticketmaster pages displaying the other stadium ticket options. You can't access Ashe with these tickets, but you can walk the grounds, see juniors and wheelchair finals, and watch Ashe matches on the big screens.
TIP #10. "PAY IT FORWARD" WHEN YOU CAN!
If you have an opportunity, consider performing a random act of kindness for fellow fans during the tournament. Our tennis community is big, but relatively speaking, it's small… Our passion for our sport is infectious; do something kind for someone today, they're likely to pay it forward. Last year, a reader emailed me saying he had an emergency and couldn't go to the tournament but had amazing New Grandstand seats – he asked if I knew anyone that would really value them for free so they didn't go to waste. I was able to share with a fanatic who's in town on a budget, who as you can imagine was elated. In past years, I've gifted a lot of tickets myself – and it always feels wonderful. It takes seconds to "transfer" tickets from Ticketmaster/Ticketmaster Exchange to others simply by putting in an email address.
On-site, you can also make someone's day (or year!) by surprising a stranger with your amazing reserved seats in Ashe, Armstrong, or Grandstand if you have to leave early. Especially if you have Ashe Courtside seats and need to leave early — there will always be die-hard fans waiting just outside the exit from the Courtside level hoping someone might pass along their ticket when done! Just pass them the printed receipt you get after getting your mobile ticket scanned (or, if you were already on site with Day tickets and you have a night session tickets that haven't been scanned, you can simply ask someone at the East Gate or at Ashe entrance to scan and give you a printed receipt).

BOX 6 (INDEX): OUTLINE OF COMMON QUESTIONS AND IMPORTANT LINKS

This post has gotten long over the years to include many more details, so I've created the outline below with shortcuts to help you find what you need more quickly. Below are shortcut links to key topics and FAQs I get most often:
WHERE TO BUY TICKETS: How to Get the Best Deal? Which sites can I trust?
Where to get the best deals on tickets? See Box #2  
What are reliable ticket sites?

Ticketmaster – Official site – always check first then compare options on reseller sites. It also includes most resale tickets from the official Ticketmaster Exchange (resale tickets are shown as red dots on seat maps, standard non-resale tickets are blue dots)
Official US Open Ticket Exchange (Official reseller site – also check this site for comparison purposes as it includes ALL verified resale tickets on the exchange. Confusingly, there are some verified resale tickets here that don't show up on the main Ticketmaster site because they may not be available for immediate delivery– which is why it's worth checking in addition to the main Ticketmaster site.
WHEN SHOULD I BUY? WILL PRICES GO UP OR DOWN?? What are average prices?
I WANT TO SEE FEDERER! Which tickets should I buy?
How can I be sure to see Federer (or Rafael Nadal, Novak Djokovic, Sasha Zverev, Serena Williams, Naomi Osaka, Sloane Stephens, etc)? See FAQ #1
Can I predict when Roger Federer [or my favorite player] will play on a specific day or night? See FAQ #1
WHAT TIME CAN I ENTER WITH A DAY OR NIGHT SESSION TICKET (and how long can I stay)?
Once you enter the Grounds of the US Open (through the East or South Gate), you can stay as long as you want and access non-reserved seating in any stadium (except Ashe, the only stadium where every seat is reserved and requires a ticket).
If you enter with a Day session ticket, you can stay on grounds all night and access unreserved seating in any all stadiums (except Ashe), including Armstrong general admission seating for night matches on first-come basis.
If you have a day and evening ticket the same day, you will NOT need to exit the US Open grounds and re-enter again
If you have both Day and Evening session for Ashe on the same day, you will need to exit and reenter Ashe Stadium (they clear the entire stadium between Day and Evening sessions)
If you were in Armstrong for the Day session (either Courtside reserved or GA seating), you will need to leave your seat between Day and Evening sessions (as they clean up). However, you may stay inside the concourse area of Armstrong (the inner-stadium areas with food stands). As such, if you were in the stadium for Day and want to line up for GA seating for Evening session, you have an advantage: you can stick around and wait in line upstairs until ushers start letting people back to seatsIf you leave the stadium during this "in between" period, you won't be allowed to re-enter for a brief  time (They don't allow anyone new to come in for a period while they're cleaning up).
WHICH SEATS ARE BEST? BEST VIEW? SHADE?
CAN I BRING AN SLR CAMERA, BACKPACK, FOOD, WATER BOTTLE, ETC?
Can I bring…

An SLR camera with video capability? YES
A plastic water bottle? YES, just not glass bottles – and they must be 24 oz or less. They can be plastic or metal. 
A backpack? NO, but you can bring a drawstring bag
Food? YES, in "limited quantities" (they don't define limited). "No sealed packages of any kind"
See Red Box #4 above ("What to Bring and Not to Bring") and review official list of prohibited items here
DAILY SCHEDULE OF PLAY/ PRACTICE SCHEDULE
2021 Tournament Schedule – See my "Schedule at a Glance" bottom of Box #1 (note: official tournament schedule is here but more vague)
2021 Daily Schedule of Play – Note: The schedule for Day 1 (and possibly Day 2 too) is released on the Friday or Saturday before the main tournament begins. Last year they released both Day 1 and Day 2 schedules on Friday evening–so this year, start checking Friday August 27.
To get a sense of which players and types of matches are scheduled on which courts, see:

2019 Daily Schedule of Play (Update July 27 2021: Unfortunately, US Open seems to have just taken down their version of the 2019 Daily Schedule, so the link in the previous sentence is to the Wikipedia version, which doesn't cover all grounds courts).
MEN'S AND WOMEN'S BRACKETS
WHAT IF IT RAINS?
TRANSPORTATION OPTIONS? SUBWAY OR CAR OR LIRR?
HOTELS?
US OPEN POLICIES, RULES, AND OFFICIAL GUIDE