By P.J. Simmons
This post is dedicated to fellow serious tennis fans and serious sports commentators who want to make an earnest effort to honor players by pronouncing their names correctly (or at least somewhere in the ballpark).
Ever have the cringe-worthy experience of hearing someone refer confidently to the mega rock star "Bono" as "BONE-oh?
That's the way I feel every time I hear John McEnroe and many other preeminent broadcast tennis journalists bungling the pronunciation of "Medvedev" and many other player's names.
Unfortunately, we can't rely on most English-language broadcast journalists for reliable pronunciations, whether due to linguistic incapacity or lack of effort. And that's a shame, because once McEnroe or other top commentators lock into a mispronunciation, it's easy for everyone else to follow suit.
I can't imagine how disheartened the world's current #3 player Daniil Medvedev must feel when hearing McEnroe and most other prominent tennis commentators repeatedly butcher his last name – stressing the wrong syllable and with a blatantly incorrect vowel.
For the record: It's correctly pronounced "med-VYAY–dev" (not "MED-veh-dev"). Don't believe me? Listen to Daniil pronouncing it himself here.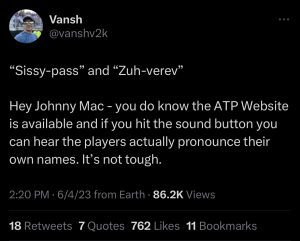 To be clear, I'm not advocating commentators veer into pretentious territory by trying to pronounce names with a foreign accent. For instance, I wouldn't advocate we all pronounce Carlos Alcaraz's last name exactly the way someone from Spain would (turning the z into a "-th" at the end). But I DO think it's important that we try at least to stress the correct syllables and generally get the vowels right (e.g. "AAHL-cah-rahz."). Ditto for Tsitsipas ("tsit-see-PAS", not the McEnroeism "Sissypas"). And Khachanov (ha-CHAH-nov, not the McEnroeism "CATCH-uh-nov). And everyone else.
The good news is that The ATP and WTA have made it quick and easy for us all to get it right in a matter of seconds.
Here's all you need to do:
Simply go to the official ATP or WTA sites, search for a player's profile page, then click on the sound icon to hear a recording of players pronouncing their own names. It's that easy.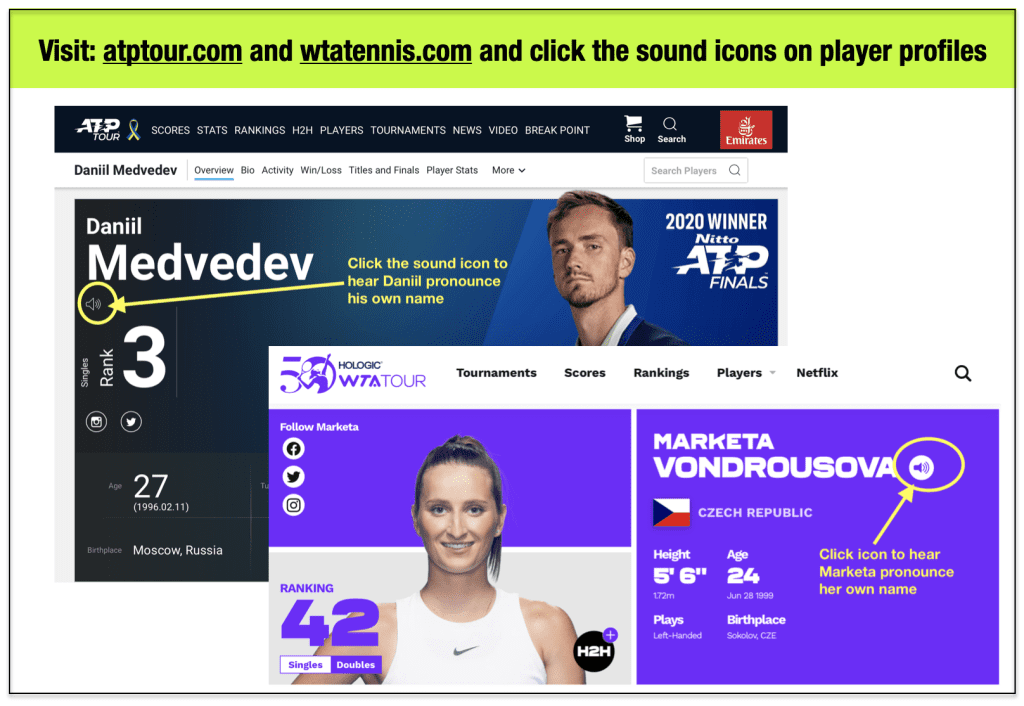 For a shortcut, check out my cheat sheet below, which I'll continue to try to update as new players come onto the scene with easy-to-mispronounce names.
If commentators can get Shapovalov and Swiatek generally right (which they do), I have faith they can get Medvedev, Tsitsipas, and others right too with a little more effort.
Even John McEnroe. But until he does, I plan to refer to him affectionately as:
"JOAN" "muck-EEN-row-ay"
SAY IT RIGHT: A Cheat Sheet for Pronouncing Hard-to-Pronounce Tennis Stars' Names
Below is my best attempt at spelling out pronunciations in a way I hope makes sense to English language speakers. For more accuracy, visit the official ATP or WTA sites, search for a player's profile page, then click on the sound icon to hear a recording of players pronouncing their own names.
The syllables in BOLD UNDERLINED CAPS are the correct syllables to stress.
ATP Players
WTA Players
Got a favorite player with a hard-to-pronounce name who you'd like to see on this cheat sheet? Let me know in the comments below!