A Serious Fan's Guide to the Australian Open (Tickets, Travel & More)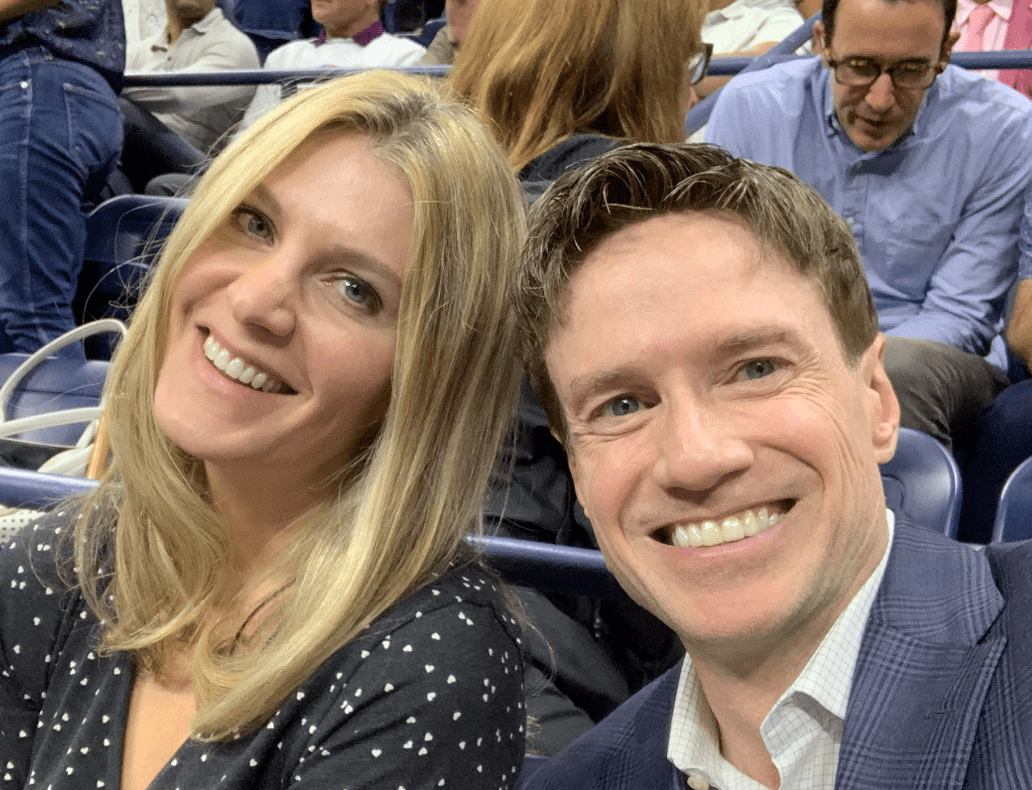 By P.J. Simmons and Amy Lundy Note from P.J.: Over the years, many readers of my post with tips for the US Open have asked if I have recommendations for the other grand slams. I've been to the French and Wimbledon and have been meaning to compile all my notes and top tips for some time – but life keeps getting in the way… As I'm finally going to the Australian for the first time this year with one of my best friends, Amy Lundy, I suggested we team up to document everything we're learning in real time (including from dear tennis friends in Australia who know the tournament inside and out)  — and eventually produce a more comprehensive set of tips after we're back. Below is our draft of what we're learning, organized around questions we needed answers to ourselves. We strongly welcome feedback and recommendations from fellow fanatics! 
Cover photo credit: Gary Innes 
Updated January 16, 2020
By P.J. Simmons and Amy Lundy
Despite the horrific wildfires currently ravaging Australia (and in part because tourism is one of the best ways to help Australia right now), my dear friend and fellow tennis fanatic Amy and I are headed to the 2020 Australian Open (January 20- February 2, 2020). Both of us have had incredible experiences at the US Open, Wimbledon and Roland Garros– but this marks our first visit to Melbourne. As such, we've done some serious research on how to make the most of our experience, asking many Australian tennis friends and fellow fanatics who've attended previously for their top tips — what to do, what not to do, how to find the best tickets and seats, where to stay, etc.
Below we're working to summarize (in real time) everything we're learning, organized by the questions we've needed to get answered ourselves. For those of you who have learned a lot yourselves through attending the Australian Open, please share your feedback and additional recommendations in the comments section below – this post is very much a work in progress, and we would love to hear from you!  We will hopefully have a substantial amount more to add after we've returned from this year's tournament.
---
OUTLINE
Jump to any section using these links:
---
1. OVERVIEW: What makes the Australian Open (AO) Unique?
By all accounts, the Australian Open is one of the friendliest, most festive, and most fun of all the Grand Slams. And we are so (SO!) psyched to experience it for the first time. Here are some things that stood out to us from all our research and preparations over the past year. 
First, the the great news (and lots of it!): 
Ticket prices are generally

much more reasonable

than the other three Grand Slams.

In part, this is because the Australian Open has kept base prices reasonable– but it's also because Australia has very strict laws around scalping and reselling tickets– including a prohibition on reselling tickets for above 10% of face value for "major events" like the Australian Open, so the market doesn't keep pushing prices up based on supply and demand. Moreover, the Australian Open recently struck a deal with

Ticketmaster

such that there are

no fees

on standard tickets! As a result, great seats are accessible to more people, and experiences like

sitting courtside at the main Rod Laver Arena is an option for more than just the wealthy

. 

Stadiums are designed such that pretty much everyone has a good seat

(in stark contrast to the mammoth Ashe Stadium at the US Open, where the gap in quality is enormous between the cheap nosebleed upper-level seats and the very pricey courtside ones). 

Outside the two all-reserved stadiums (Rod Laver and Margaret Court Arenas), there's a

lot of General Admission seating in stadiums featuring exciting matches

–including the popular Melbourne Arena, formerly called "Hisense" (similar in size to "Grandstand" at the US Open) and Show Courts 2 and 3. 

The three biggest stadiums (Rod Laver, Margaret Court, and Melbourne Arenas) all have roofs

with A/C and air filtration in case of rain, extreme heat (or poor air quality this year due to the fires)

When purchasing tickets, the

stadium seating maps are very clear and transparent about which sections have shade

and which don't! 

Because the tournament is located

within

central Melbourne, it's

a very quick walk or tram ride from tons of nearby hotels and vacation rentals

.

The tournament is

incredibly family-friendly

: amazing deals on ground passes for kids, a plethora of activities to keep kids entertained outside the matches, professional child care in a

"Kid's Club"

(ages 5-12) plus discounted prices for kids' reserved seats in Laver and Margaret Courts. 

By all accounts, the Australian Open is probably the most "

FUN"

grand slam tournament of all, given the range of activities offered off-court plus the energetic, welcoming spirit of the Aussies. 

As one friend told us, the tournament is "incredibly conscious about the fans…there are water stations everywhere to fill up water bottles for drinking and also people handing out sunscreen all day."
Some challenges we discovered:
It can be tough to find reserved seats in the main Rod Laver Arena (and even Margaret Court Arena) after the first two rounds on the official Australian Open Ticketmaster site

, unless you purchase very early and get lucky when tickets go on sale in early October.

Australian ticketing laws (and Australian Open policies) are strict and

only allow fans to resell tickets

(at no more than 10% above face value) on the

Official Australian Open Fan Marketplace

—

however you must be from Australia (with an Australian billing address) to either buy from this site or post your ticket for resale on it

. For Australians, this is

fantastic

, because it means they have first dibs on great seats on the resale market at great prices. (As of a week before the tournament, there were still plenty of great seats available even for the sold-out men's semifinals and finals). But for the rest of us, it's a bummer. 

Note: other resale sites like Stubhub do offer resale tickets, even if this practice is not sanctioned by the tournament (official ticket conditions here). That said, a strict reading of those rules seems to lead to the conclusion that one could theoretically purchase a ticket from another resale site without violating the rules. 
2. AUSTRALIAN OPEN "101": Understanding the Tournament Schedule, Stadiums, and Grounds
SCHEDULE AT A GLANCE
January 14 (Tues) – 17 (Fri), 2020: Qualifying rounds (free to the public!) 
January 18 (Sat) – Kid's Day
January 19 (Sun) – AO Music for Relief
January 20-27 (Monday through following Monday) – Rounds 1-4
January 28-29 (Tues-Wed) – Quarterfinals
January 30-31 (Thurs-Fri) – Semifinals
February 1 (Sat) – Women's Finals
February 2 (Sun) – Men's Finals
2020 Tournament Schedule
2020 Daily Match Schedule of Play (updated in real time based on who advances)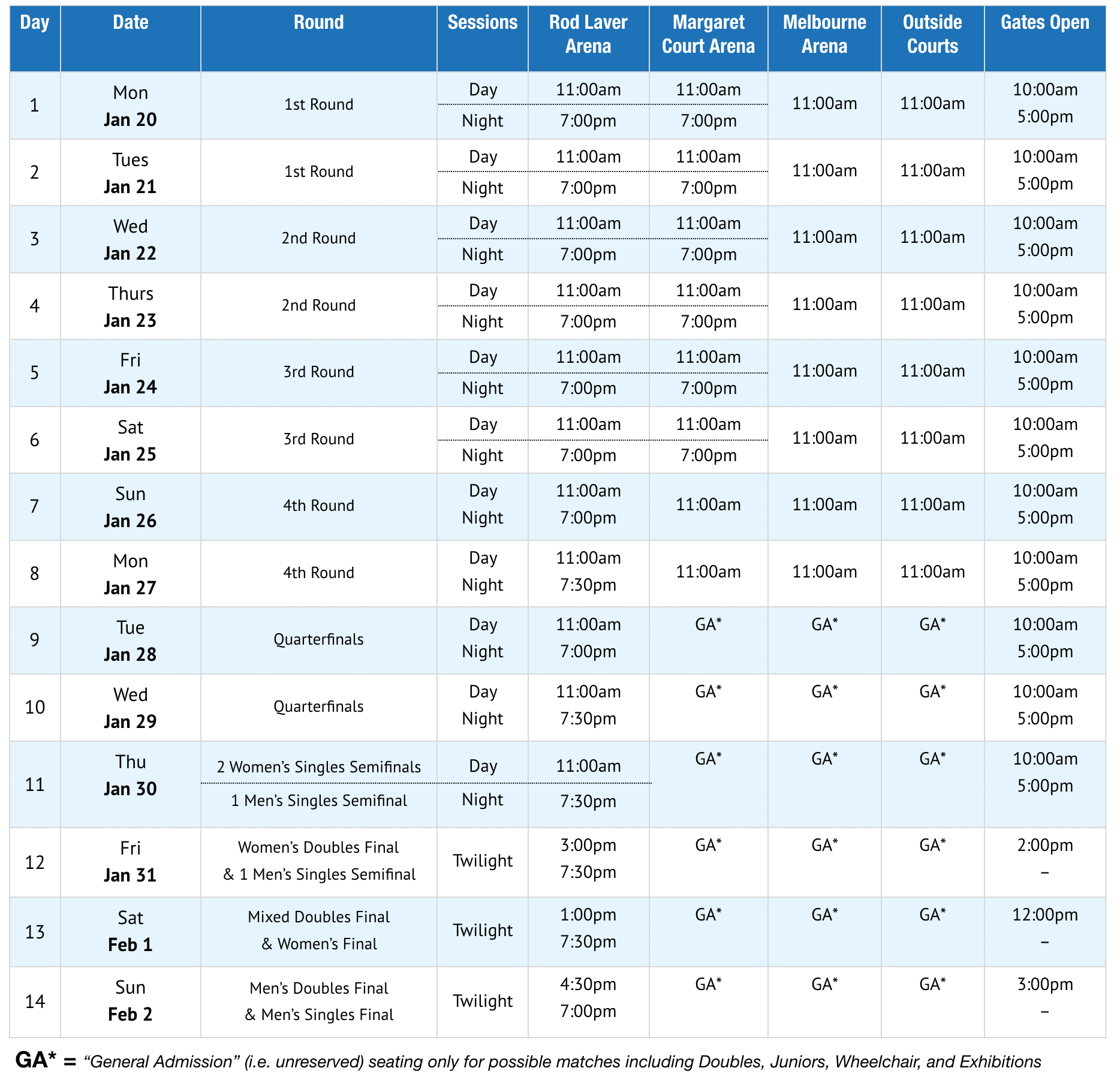 .
---
Which are the Main Stadiums? Which Players will be on Which Courts?
Before making any ticket purchase decisions, some important basics:
The two most prestigious stadiums, where the biggest superstars are scheduled to play, require reserved tickets (i.e. you cannot enter with a grounds pass). 
ROD LAVER ARENA

(15,000 seats)




Equivalent in stature to Wimbledon's "Centre Court," Court Philippe Chatrier at Roland Garros, or the US Open's Ashe stadium. Entry is by

reserved ticket only for the entire tournament

. There are separate Day and Night sessions, each requiring a separate ticket, until the final Fri/Sat/Sun (days 12-14). The

superstars

— most notably Roger Federer, Rafael Nadal, Novak Djokovic, and Serena Williams–will almost certainly be scheduled exclusively on Rod Laver.

MARGARET COURT ARENA

(7,500 seats)




Like No. 1 Court at Wimbledon or Armstrong Stadium at the US Open, but smaller and more intimate. Entry is by

reserved ticket only for the first 8 days

. There are separate Day and Night sessions for the first 6 days, each requiring a separate ticket. Singles matches are only played on this court through 4th round (all singles matches beginning with Quarterfinals take place on Rod Laver).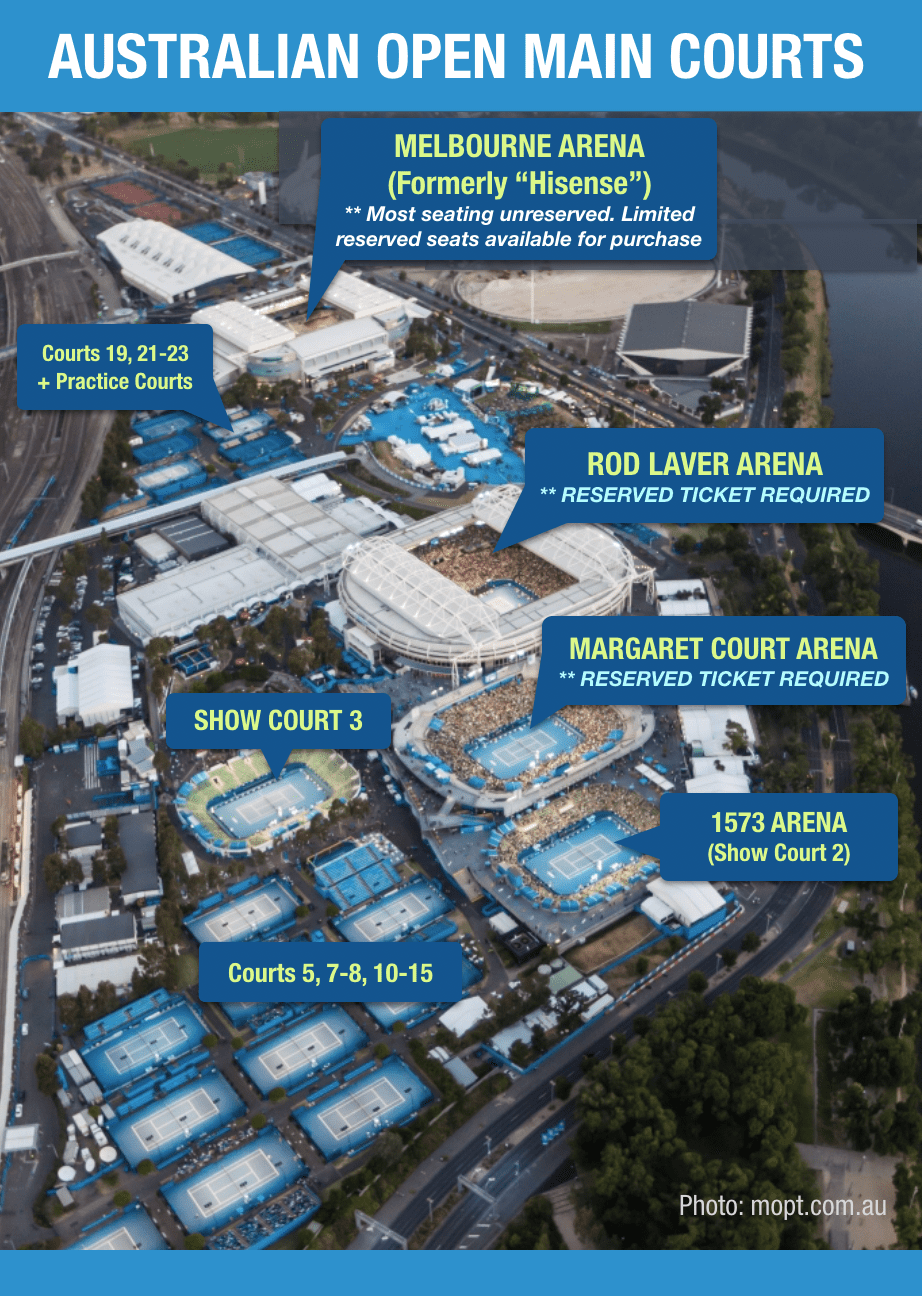 The third major stadium, MELBOURNE ARENA (9,646 seats, previously called "Hisense"), is similar in size and stature to the US Open's "Grandstand" court. Seating is mostly general admission (unreserved), accessible on a first-come basis to anyone with either a grounds pass OR a reserved ticket for either Rod Laver or Margaret Court. A relatively small number of courtside reserved seats are also available for purchase. As Andy Murray explains, this is a place for hardcore fans: "I like playing on this court. It's nice… It's a non-ticketed court. So like anyone with a grounds pass can come in. So you get the proper tennis fans, not just the rich people watching. So the atmosphere is much better than on the center court. So I'm hoping they put me on this court to play." — Andy Murray on Melbourne Arena, quote from the documentary Resurfacing (which we highly recommend!) 
Note: Rod Laver Arena, Margaret Court Arena, and Melbourne Arena all have retractable roofs and A/C with air filtration in case of rain, excessive heat or poor air quality (a big deal in 2020 given the wildfires and potential impact of smoke in Melbourne). 
All other courts–referred to as "OUTSIDE COURTS"– are entirely general admission seating. Seats are accessible on a first-come basis to anyone with either a grounds pass OR a Reserved ticket in either Rod Laver or Margaret Court Arenas. The largest of these are the "1573" Arena and Show Court 3 (each with 3,000 seats). 
To get an idea of which players and types of matches are scheduled on the above, see the 2019 daily match schedule for the main courts (shaded rows indicate evening matches).
---
How to Predict When Specific Players will Play?
There is no way to make even educated guesses until the Day 1 schedule is published and the tournament directors decide which half of the draws will start on Day 1. After the Day 1 schedule is posted on the Daily Match Schedule, here's how to predict which date(s) your favorites will play:
*** UPDATE FRI JAN 17 11pm EST: Day 1 Schedule just released (see here). Day 1 will feature Men's Bottom Half (Federer and Novak) and Women's Top Half of the draw (Serena, Osaka).
Look to see who is scheduled to play on Day 1 (I.e., 

which halves of the draw play on Day 1) –

check both women and men's draw, which are treated separately. 

Players scheduled for Day 1

(Mon) will next be scheduled on Day 3 (Wed) if they win, then again on Day 5 (Fri) and Day 7 (Sun) if they keep winning (assuming no rain or other unforeseen delays).

Players NOT scheduled for Day 1

will first play on Day 2 (Tuesday), then again on Thurs, Sat, and Mon if they advance (again, assuming no schedule snafus due to weather). 

For 2020, the

Men's Top Half

includes

Rafael Nadal

,

Daniil Medvedev, Dominic Thiem,

and rising star 

Felix Auger-Aliassime (

one of our new favorites)

. The

Men's Bottom Half

includes

Roger Federer

,

Novak Djokovic

,

Stefanos Tsitsipas,

and rising superstar 

Matteo Berrettini (

another one of our new faves)

. 

The

Women's Top Half

includes

Ash Barty

,

Naomi Osaka

, and

Serena Williams

; the

Women's Bottom Half

includes

Simona Halep

,

Karolína Plíšková

, and

Elina Svitolina

.  

Full

Men's Draw on AO website

(or this

ESPN version

) and

Women's Draw on AO website

(or this

ESPN version

). 

Great ESPN summary here: "

Australian Open 2020 bracket, scores, schedule, how to watch, analysis

"   
Note: there is no way to predict with absolute certainty whether a player will be on a Day or Night session. Officials tend to alternate scheduling superstars between Day and Night sessions (i.e., if your favorite player is playing a night session on Laver Day 1, there's a decent chance they will be scheduled for the day session on Laver on Day 3, and if they win probably night session Day 5, and so on). However, it's all up to the subjective decision making of the tournament director so don't expect the pattern to hold consistently.
---
3. NAVIGATING TICKET OPTIONS: How/Where/When to Get the Best Deals?
Before deciding when to attend and which tickets to buy, we recommend first asking yourself (and anyone you're going with):
What is my budget?

How much am I willing to spend total on tickets after accounting for travel expenses? 
What are my top priorities?

Is it to see a particular superstar player in action like Roger Federer, Novak Djokovic, Rafael Nadal? To have the thrill of seeing one of them up close, even if in a lopsided match against a lesser competitor? To see the most competitive, exciting matches regardless of who's playing? To have a great time with a large group of tennis friends also attending? To give the gift of an amazing experience to a friend or family member who's a serious fan? To be there for a history-making final match? To see a ton of matches over multiple days, or to maximize the experience for fewer sessions? To prioritize mediocre shaded seats (especially given the often very very hot days) over outstanding sunny ones?
Then, explore how far your budget might go towards your priorities by checking out ticket prices and availability on the following:
AO Ticketmaster Site

(organized as a list by date, which we find a bit easier to navigate)

See the special

VIP and "hospitality" options

, which include "fan walks" (where you get to walk the behind-the-scenes stadium corridors that players use before entering Rod Laver or Margaret Court) and crazy on-court seating (which we are slightly embarrassed to admit we opted to do for Wed Jan 22 evening session and could not be more excited). 

If Australian, definitely (!) check out the

Official AO "Fan Marketplace

"

for resale ticket options — prices by law can't be more than 10% of the face value, and even a week before this year's tournament there were still great seats on offer for even the Men's Final.

If you can't find what you want on the above sites, you may want to investigate other major resale sites.
Over the years, both of us have generally opted for quality over quantity. For us at the 2020 AO, we've combined some cheap tickets during the first week (as we plan mainly to wander and check out many exciting, competitive early-round match-ups on outside courts) with some big-splurge courtside reserved seats in Rod Laver to experience the thrill of seeing legends like Federer/Djokovic/Nadal/Serena and rising superstars on the biggest AO stage. 
Based on advice from savvy AO insiders and our own experiences at the US Open, we opt to pay for reserved seats instead of grounds passes for every day we're attending (often available for a modest amount above the prices of grounds passes) for the following reasons:
1. They offer insurance in case of bad weather—  rain, extreme heat, or this year, the threat of matches being moved indoors due to poor air quality from nearby wildfires (the three stadiums with reserved seats all have retractable roofs);
2. The bigger names are scheduled in the stadiums with reserved seats, so getting a ticket to the big stadiums is the only way to see the likes of Roger Federer, Novak Djokovic, Rafael Nadal, Serena Williams, etc.;
3. We expect to spend lots of time queuing up for general admission seats, and know from experience how nice it can be to have a "home base" and backup seat to retreat to whenever we want.
Exception to the above: grounds passes make total sense for kids, especially young children who won't want to sit still for long. For children aged 3-14, they're a steal at only $5 Australian Dollars (AU)!  Free kids ground passes are also available when purchasing with an adult ticket (limit of 4 free kids tickets per adult).
SUMMARY OF TICKET OPTIONS
See the 2019 daily match schedule for the main courts (shaded rows indicate evening matches) for an idea of which players and types of matches are scheduled on which courts.
1. ROD LAVER ARENA Reserved Ticket
— 15,000 seats – The "main stage" or "center court"
— Entry only with a reserved ticket (not a grounds pass) for entire tournament
— All Quarterfinal, Semifinal, and Final Singles Matches played on this court
— Separate Day and Night sessions until the last 3 days
— Day sessions typically feature 3 matches, Evening sessions 2 matches
— Day session ticket allows grounds entry at 10:00am most days (with same privileges as a grounds pass)
— Evening session ticket allows grounds entry at 5:00pm most days (and then access to general admission seating throughout the grounds)
— Rod Laver Arena Seating Map
2. MARGARET COURT ARENA Reserved Ticket (Reserved ticket required first 8 days)
— 7,500 seats – Also known as "Court One.
— Entry only with a reserved ticket (not a grounds pass) for first 8 days
— Reserved tickets available for the first 8 days of the tournament only
— Singles matches on the first eight days of the tournament only
— Separate Day and Night sessions on first 6 days
— Day session only on 7th and 8th day (Round of 16)
— Day sessions typically feature 3 matches, Evening sessions 2 matches
— Day session ticket allows grounds entry at 10:00am most days (with same privileges as a grounds pass)
— Evening session ticket allows grounds entry at 5:00pm most days (and then access to general admission seating throughout the grounds)
— Margaret Court Arena Seating Map
3. MELBOURNE ARENA Reserved Ticket
— 9,646 seats
— Mostly unreserved seating
— Singles matches on the first eight days of the tournament only
— Some outstanding courtside reserved seats available for purchase
— A Melbourne Arena reserved tickets allows grounds entry at 10:00am most days (with same privileges as a grounds pass)
— Melbourne Arena Seating Map 
4. GROUNDS PASS
— Access to all outdoor courts (not Rod Laver or Margaret Court), the AO Live Stage, the AO Ballpark as well as the all-new Practice Village
— It does get crowded and is sometimes difficult to find good viewing, so if you do find a match you definitely want to see, get there at the end of the previous one and just stick around
— NOTE: AO has a great policy for holding seats! "Seats cannot be held for more than three changes of ends on all outdoor courts. This excludes Rod Laver Arena and Margaret Court Arena, which have reserved seats. When Melbourne Arena reaches capacity, the pass-out system will be implemented. If leaving during a break in play, you will receive a pass-out and will be able to come back to your seat within a 30 minute period."
See FAQs on AO Site for additional details
OFFICIAL TICKET SITES
AO Ticketmaster Site

(organized as a list by date, which we find a bit easier to navigate)

VIP and "hospitality" options

, which include "fan walks" (where you get see the stadium corridors players use then step onto the courts of Rod Laver or Margaret Court) and crazy on-court seating (which we are slightly embarrassed to admit we opted to do for Wed Jan 22 evening session and could not be more excited). 

(For Australians only): 

Official AO "Fan Marketplace

"

for posting and buying resale tickets

If you can't find good options on the above sites, you may want to investigate other major resale sites like Stubhub (with the caveat that ticket resale outside official site is not sanctioned by the tournament) 
---
4. FLIGHTS: How to Fly to Australia as Affordably and Comfortably as Possible?
Flying internationally to Australia can be a long haul. It takes about 21 hours to fly to Melbourne from Houston, Paris, or London. A direct flight from Los Angeles is 15 hours. And it's about a 24 hour ordeal from Berlin, Mexico City, or the NYC area (where we live). Given the range of variables and options, you almost need a flow chart to make booking decisions – especially if planning to combine a trip to the Australian Open with stops in Sydney, Brisbane, Western Australia, New Zealand, Fiji or some other fun destination in Oceania.
Here are key lessons learned after trying to book from the U.S. to Melbourne, the home of the Australian Open (hopefully others can share lessons in the comments section from other places):  
The majority of routes for US air carriers depart from Los Angeles (LAX)

. There are a few big exceptions.

American Airlines and its partner, Australia-based Quantas, offer nonstop service from LAX as well as San Francisco, Dallas and Honolulu

.

There are essentially four options from the U.S

. In order of size:

Look at frequent flyer reward programs and preferred status options of the airlines you're considering

, both to see whether you can use miles/status to your trip and/or earn points for future travel. L.A. to Melbourne is almost 16,000 of air miles round trip, and with

some estimates putting the value of a flown mile in the neighborhood of .02 cents

, that adds up to a value of over $300 – so at the very least it pays to join the frequent flyer program of the airline you eventually choose (they're free to join).

Most flights depart at night – and given the time difference, you may lose a full day in the air.

Leaving LAX at 8 pm on a Friday night gets you into Melbourne at around 7 am on

Sunday

.

Say goodbye to Saturday. But while a day is "lost" on the way to Australia you'll "gain it back" on the way home: a Sunday evening departure from Australia gets you back to L.A. the same day a few hours "earlier" in the afternoon.

Deals and sales tend to be best for tickets in coach (economy) class

. Airlines want to fill up all available seats on their planes, the majority of which are in coach. They tend to save the first class seats for those who pay a lot or as a way to reward their loyal elite flyers. In economy, they want you. You are in the pilot's seat. A friend found a phenomenal deal (around $350 round trip) on an economy ticket going to the Australian Open using

Priceline

. It pays to watch the airlines' websites and "subscribe to their newsletters."

It's hard to predict when fares will go up or down, but data-crunching websites/apps can help.

Sky Scanner

offers some helpful information and historical data, as does the

app "Hopper

" (which also published

these 8 tips on the cheapeat time to fly/book from US to Australia

). We found it most helpful simply to periodically plug our desired flights into Google to get quick and uncluttered results. 

How to Score a Business Class "Lie-Flat" Seat without Busting Your Budget?
Knowing that we had limited time in Australia (only so many vacation days), we ideally wanted to stay healthy and be able to hit the ground running when we arrived — and not return home so exhausted from travel that we had to take another vacation. This meant figuring out how to get some sleep on the crazy 20-hour flights. Many people do really well with neck pillows (Amy swears by this one) in seats that only recline slightly. We, unfortunately, both find it impossible to get meaningful sleep on long flights sitting up. We've tried everything, every position. We need the ability to lie flat to get serious sleep. Body at 180 degrees. And the only place that you can lie flat on a plane, like– as in a bed— is the "first" (front)" or "business" class.
But the cost…
We were initially hopeful we might use frequent flyer miles for business class seats, until we realized that you need a guhzillion of them to make it work. For a first-class, round trip ticket LAX to Melbourne, a random spot-search on Delta asked for 999,999 miles. Who has that many? Some people do, but clearly the airlines don't want miles used for this purpose. We also realized our mid-tier status on airlines carried little weight: turns out you need super-duper elite status on an airline (e.g. "Executive Platinum" on American or "Diamond Medallion" on Delta") to get free upgrades on international flights.
After tons of investigative work, Amy may have cracked the code: the "bundling option combined with miles." While you are in Melbourne, you will also need a place to stay, correct? Try checking with– are you ready for this?– a travel agent. Wow. Blast from the past! Travel agents do actually still exist, and sometimes travel agencies are able to find you a bundled deal on first- or business-class flights, hotel and car rental. When added all up, it can make the airfare much more affordable. Amy ended up finding her great deal through Delta Vacations, which is a travel agency that is a wholly-owned subsidiary of Delta Airlines. She then bundled her flight and hotel (you can play around with this on the airline website or actually talk to a human on the phone). After checking periodically over the course of a few years, she noticed that the savings amounted to around as much as $2,000 per person. She had around 200,000 air miles in her account that she'd been saving for this trip, and the travel agency allowed her to use all of her miles to knock down the cost another $2,000. She noticed similar bundling/savings phenomena on American Airlines Vacations and American Express Travel. Priceline, Expedia, Kayak and other travel sites also include options to bundle. Play around with it! 
Note: Read the fine print when shopping! It will say "lie flat" or not. The airline should show you a picture of the seat. In coach, there are regular economy seats, and there are upgraded seats sometimes called "Comfort Plus" or "Economy Comfort." Those seats offer more legroom and often more recline. But they don't lie flat, and neither does every business class seat! 
BE SURE TO CHECK TO SEE IF YOU NEED A TRAVEL VISA TO VISIT AUSTRALIA! 
---
5. GROUND TRANSPORTATION: Getting to/from the Airport and around Melbourne
We all know it can be nerve-wracking getting to and from the airport in a foreign country with luggage and not exactly knowing the lay of the land. Here are various options from the Melbourne (MEL) Airport, also known as the Tullamarine airport: 
Taxi – super easy and not very expensive if splitting the cost (about $50 AUD from the airport to downtown)
Uber works very well in the major Australian cities like Melbourne.
Rental cars are plentiful (Americans, remember that Australians drive on the left side of the road!).
A hotel shuttle is great if offered, as they are usually free.
SkyBus is an expensive option from the Airport to the city & beyond. Operates 24 hours a day and runs approximately every 10 minutes. One way is $20 AUD, round-trip $36 AUD. You'll need to purchase a "Myki" card, which you can use within the city as well. 
Because Amy often travels with her family (husband and two kids), she also looked into springing for a car service to and from the airport only, while using public transportation, good old walking, and Uber/Lyft the rest of the time. After an extensive search, Amy can give a thumbs up to

Blacklane car service

. We have used them in Paris and London. They can be expensive, but they are trustworthy and specialize in making your airport trip in a foreign locale headache-free.
Once you're in the city, you won't have much need for your own car, unless you want to go to some very specific places (e.g. the Mornington Peninsula, or the mountains). Melbourne has a great tram and train network, running you all over the city and to the outskirts. A large portion of the downtown area is FREE, including from the Flinders station to the tournament. And many hotels are within walking distance of the tournament.
---
6. HOTELS & LODGING: Where to Stay?
We opted to find places within walking distance of Melbourne Park, so we chose spots in the "CBD" (Central Business District) about 10-minutes walk to Melbourne Park. 
A note of caution: when looking at a possible hotel on Collins Street near the Flinder's Street Station (closest to the tournament) we got a pop-up: "Guests may experience mild noise disruptions due to the Melbourne Metro Rail works scheduled between 7am and 7pm Monday to Friday and from 7am to 4pm on Saturdays." 
Some advice from locals we consulted (to be updated as we learn more!)
CBD (Central Business District) is pretty busy/touristy as you would imagine but there are some cool spots off the smaller "Lane" and "Little" streets

Fitzroy and Brunswick are the cool/trendy neighborhoods – lots of good bars and restaurants and shops

St. Kilda is great if you want to see the beach and Luna Park (but be aware that it's about a 45 min tram ride from the city)

Carlton & Fitzroy Gardens are lovely to walk around
WHAT TO SAY (AND NOT SAY!) WHEN IN AUSTRALIA
"MEL-bin"

is the Aussie way to pronounce Melbourne. 

"

CBD

" refers to the Central Business District in Melbourne, not the substance in hemp plants.

"To root" does NOT mean to cheer for in Australia…it means to have sex!

So ask others who they plan to cheer for or support, not who they plan to root for at the Australian Open!

"How are you going?" is a common way to say hello.

Aussies say "No Worries" a lot. Or the fun variation, "

No Furries

," which means no f-ing worries. 🙂 

Burger King is called Hungry Jacks

QANTAS has no "u" in it. It stands for Queensland and Northern Territory Aerial Services. and is 100 years old this year (2020)!
Australians LOVE coffee – but when ordering, know that virtually all places only make espresso-based coffee drinks (not drip)

. What to say when ordering coffee:

Short Black

= Espresso

Long Black

= Americano (you can ask for a long black on ice and that's about as close as you'll get to an iced coffee)

Latte / Cappuccino

= same as here

Flat White

= some places have it, basically between a Latte and Cappuccino

Don't ask for an "iced coffee" unless you want it to come with a scoop of ice cream (an "Affogato"!
American readers: Review this comprehensive list of "Words Americans should avoid saying to Australasians!" 
---
7. THE NIGHT BEFORE THE TOURNAMENT: Transportation to Melbourne Park, What to Pack, How to Plan your Day
THE NIGHT BEFORE
Read this great tribute to Rod Laver and get even more inspired
Read this terrific "Insider's Tips to Attending the 2020 Australian Open" by the incredible Jon Wertheim of Sports Illustrated. Note: if you haven't yet seen Wertheim's 2018 Strokes of Genius documentary on the Federer/Nadal rivalry, RENT IT! It's one of the best documentaries on anything I've ever seen, beautifully capturing so many of the unique aspects of tennis that make us so passionate about our sport.
Download the official AO app (iTunes) (Google Play)
Review the

2020 Daily Match Schedule of Play

(updated in real time based on who advances) to determine any matches on "outside courts" you want to prioritize so you have a plan to grab GA seats 

Check out the practice schedule! The main practice courts are located between Rod Laver and Melbourne Arenas. One of the best ways to see the big names up close and personal.
PLAN HOW TO GET THERE
WHAT TO BRING
Review this

official list of prohibited items

, which bans "large bags" (only defined as needing to fit under seats); telephoto camera lenses "with a focal length capacity greater than 200mm"; glass (including bottles), cans, ceramic and breakable containers; "flags, banners, signs larger than 1m by 1m in size or with handles longer than 50cm."

Bring a small white towel to put on your neck or knees to deflect the hot sun – you'll thank Amy for this great tip 🙂
Sunscreen! As one Aussie told us: "Beware the sun! Melbourne can be excruciatingly hot and uncomfortable at times. The latitude means the sun can burn you,… a lot. Very similar to sitting in the desert at Indian Wells."

Sunglasses!

Pack a hoodie or bring layers because Melbourne is "crazy weather temperamental…" As another friend from Australia put it: "A good southerly wind change can bring conditions closer to winter… Melbourne can experience 4 seasons in one day, haha." 
---
8. MELBOURNE FOOD, SIGHTS, ATTRACTIONS: What to Prioritize Besides Tennis?
WHAT TO PRIORITIZE SEEING BESIDES TENNIS?
Some initial thoughts and resources – we'll add more after our trip!

WHERE TO EAT?
Recommendations from friends and fellow fans:
Chinchin Restaurant

– "Can get crowded late but is super yummy" 

Queen Victoria Market

is a huge semi-outdoor/open air market selling everything. There was a food fest happening last time I was there. Definitely worth a walkthrough.

Australia has great Asian restaurants. "Run away from Mexican," said one friend (except

see this recent article on promising new possibilities

!)

Enjoy a glass of wine along the Yarra River

 

South Bank and/or Lygon Street areas offer the best options

Lygon Street near Uni Melb has a lot of Italian restaurants 

Victoria Street in Richmond has lots of Vietnamese places

"Have at least one meat pie and one sausage roll while you're there"

"If you need a quick snack there are places you can get a sushi roll that hasn't been cut up in pieces and grab one or two that they'll put in a waxed bag or small box and you can nosh on them while walking around."
We also consulted the TimeOut 50 Best restaurants in Melbourne list and found some really exciting possibilities. Can't wait to report back…