Racquet Tattoos: My Secret Weapon (Guest Post)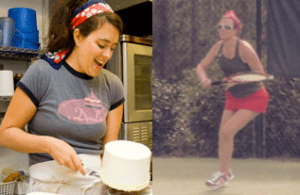 By Jamie Powers
Jamie Powers is baker, dishwasher, counter girl and 9-year long owner of DeLuxe Bakery in Iowa City, IA. She continues to obsess about tennis on an hourly basis. She plays 4 times a week and holds delusions of pro-circuit grandeur.  Her tennis life remains a continual addictive disappointment. She plays on three USTA teams for North Dodge Athletic Club in Iowa City, IA.
My name is Jamie Powers. Nine-year bakery owner by day, by night and every other breath, 3.5-4.0 tennis obsessive rec player. If rec tennis could get a restraining order on me, it would.
As you can imagine, I think and obsess about tennis when I am not on court. I have annoyed all my non-playing tennis player friends, coworkers and family with court talk.
Recently I've been shifting attention to the arena that most obsessive tennis players get into: the mental game. I started a few months back by keeping a tennis journal, which I'd pathetically read in the parking lot before going into the infamous "bubble" complex and playing a match. I would schedule one match a week, read in the parking lot about my "tennemies'" [tennis enemies'] strengths and weaknesses (which I logged, in detail), then read my page of positive reinforcements. I would try and remember them all when I got on court, but they always slipped away immediately after the match began. I turned into a total basket case within the first three seconds of play, going on and on in my pea-sized tennis brain about why all my shots were going two inches out… "OMG she has tons of topspin… OMG she gets everything back, just ace her…Why are you not moving your feet?!…She is acting like such a bitch, just kill her!…Oh you're worthless, why are you doing this to yourself??"
Clearly the parking lot solitary pep talk was not working.
I went to ask for help from my awesome Zen coach, Fred Pederson. He suggested I read Jim Loehrs's book on mental toughness, which was incredibly helpful. I won't try to summarize the book, I'll just tell you to suicide run– don't walk– to get it.
Fred also recommend I get The 16-Second Cure DVD based on Loehr's book, which focuses on how to use the critical 16-second recovery period between points to reset yourself mentally– by setting up rituals like playing with your strings, for example. You notice pros doing this all the time, finding whatever works for them to clear their head and reset. This short video gives a preview:
It quickly sunk in that the mental game has to be learned and practiced at every drill and then transferred into every match. Mental toughness is not something you are given– it's something you have to exercise.
So I read, made notes and tried to apply these mental strategies in the first week of play. I did "okay" but I wasn't as consistent as I wanted to be; in fact, I seemed to play worse when I did let my guard down. At one point, my team captain said something that ticked me off and I slammed a ball right into the curtain (poof, you know the sound) and told her to get up out of my grill.
That's when I knew I needed a better way to make sure I reset myself between each point. I came up with the idea of having a couple "key words" on me at all times to trigger my inner circuits to stay clearheaded and focused. But where would I put them?
Then it clicked! I would put two key phrases on the inside of my racquet and after each point, they would be there to help me reset: RACQUET TATTOOS!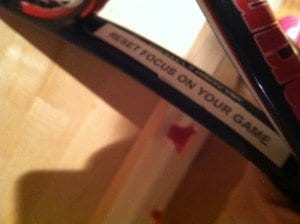 I thought of my two key phrases and ran to the bakery to get my label maker:
1) WATCH BALL
This is something basic most players, especially me, totally forget under all kinds of pressure.
2) RESET FOCUS ON YOUR GAME
I was complaining to Fred that I was letting myself be affected by stupid things, like when my teammates wouldn't do a drill the right way. He said it seemed that EVERYTHING around me affected me and that when I come to drill I am only there to focus on my game and on my needs within that drill. Essentially, he was reminding me how important it is to just focus on what you have been taught previously: your specific goals, and to apply this in all your drills. DO NOT worry about any other "tennemy"– just work on your specific game at drill and match.
Both of these racquet tattoos have been EXTREMELY helpful in my quest to reset my pea-sized tennis brain. Once I feel I have conquered these– or need some other form of reminder– I can just reapply a new phrase. My goal is to one day have the word SLOANE SLAUGHTER on the inside to help bring out my inner Sloane Stephens…….when I'm an official 4.5 player!!!
What would your racquet tattoo say…?