2 Must-Read Tennis Psychology Books that Changed My Game
As summer was ending two years ago (August 2010), I was totally burned out from work. I had spent almost every night and weekend over the previous year writing a book on a tight deadline while also working a high-pressure full-time job. I knew I'd need a serious escape after we sent the final manuscript to our publisher, so I set out to plan a vacation where tennis would be a central focus. I got onto Tennis Resorts Online and discovered "The Boulders," which ranked in the Top 25 and was in a spectacularly beautiful part of Arizona that looked great and was super cheap (prices were low because it was the dead of summer and most vacationers, unlike me, wanted to avoid 90+ degree heat). Easily one of the best vacations I've ever had: Tennis every morning around 7 before it got too hot, beautiful wildlife everywhere you looked (including jackrabbits!), awesome mountain biking trails in the desert, rock climbing, horseback riding at sunset, and a lot of time reading at the pool…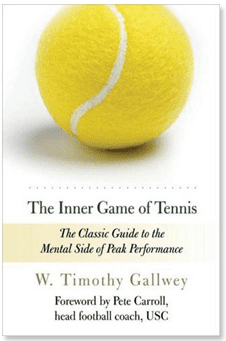 At the top of my reading list was a crisp little 134-page paperback a friend had recommended so enthusiastically there was no way I could not buy it: The Inner Game of Tennis: The Classic Guide to the Mental Side of Peak Performance, by Timothy Gallwey. I was hooked after the first paragraph:
"The problems which most perplex tennis players are not those dealing with the proper way to swing a racket. Books and professionals giving this information abound. Nor do most players complain excessively about physical limitations. The most common complaint of sportsmen ringing down the corridors of the ages is, "It's not that I don't know what to do, it's that I don't do what I know!" Other common complaints that come constantly to the attention of the tennis pro:
      –I play better in practice than during the match.
      –I know exactly what I'm doing wrong on my forehand, I just can't seem to break the habit.
      –When I'm really trying hard to do the stroke the way it says to in the book, I flub the shot every time. When I concentrate on one thing
          I'm supposed to be doing, I forget something else
      — Every time I get near match point against a good player, I get so nervous I lose my concentration
      — I'm my own worst enemy; I usually beat myself."
I totally identified with these common problems, and the book promised to help. And it delivered in spades. I've already reread it twice– each time getting something new out of it. The book's takeaways are too rich to summarize in one post, and I believe the power of the book is its ability to make the reader think and find solutions appropriate to their unique circumstances and issues. In the months ahead, I'll do several posts that build on some of the specific game-changing insights from The Inner Game that are helping me the most. Suffice to say that no matter who you are, no matter what stage of the tennis journey you're on, I'm convinced this book will be of value. If you can't find the time to read it, check out this 10-minute audio summary.
***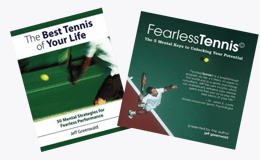 Flash forward to February 2012. I had played my first USTA matches (Mixed Doubles) and was pretty much choking in every one. Rereading the The Inner Game helped, but I still felt like I needed something more to battle the demons in my head during matches. I started Googling "sports psychologist" and was about to hire one when I got an email from Brent Abel, 2009 USA National 60's Hardcourt Singles Champion and publisher of the excellent Brent Abel's WebTennis site. Brent was offering a "Triple S Winning Formula" course led by Jeff Greenwald, a former ranked ATP player who in 2012 won the World Men's 45s Singles Championship title. It sounded promising and I trust Brent, so I enrolled in the course.
It was an awesome investment. Jeff, a licensed therapist focused on sports psychology, takes Gallwey's time-tested guidance and builds on it from an elite practitioner's perspective. He brings in real-world examples from his own high-pressure competitive situations, and offers a treasure trove of practical tools to cope with particular situations where emotions are poised to hinder performance. Through the course I was exposed to Jeff's awesome CD-audio program (also available in PDF transcript), FearlessTennis: The 5 Mental Keys to Unlocking Your Potential. And I also got his outstanding playbook, The Best Tennis of Your Life: 50 Mental Strategies for Fearless Performance (with a foreword by the great Jim Loehr). I was so inspired I called up Jeff and asked if he'd do a webinar for my USTA team members this past spring just before our first match. He was incredibly receptive and did a tremendous job. One of our top singles players told me a couple weeks later after a match he won: "I tried that thing Jeff talked about, the smile defense… it made such a difference to smile and realize how happy I was to be there (as opposed to how desperate I was to win the next point)." And for me, Jeff's guidance has been pivotal in turning the tides on my poor initial USTA performance… In one of my recent matches, my partner and I were down 1-7 in the decisive 3d set tiebreak. I remember pulling on some of Jeff's key ideas– including the one that "Momentum is With You if you Think it Is…" and we turned it around and won 10-8. An added bonus: Jeff's wise advice is transferable not just to any sport, but to life— as another blogger observed earlier this year.