Announcing the U.S. Tennis Congress
By P.J. Simmons
Some of you may have noticed my posts have become a little less frequent in recent months. Well I'm writing to share some exciting news that I hope helps to explain why. About six months ago, I was sitting around one day thinking about how grateful I was to have tennis so central in my life. About how inspiring it's been to meet so many people like me around the world who share my passion for our great sport… people who, like me, are trying to train with the intensity and commitment of a junior or aspiring pro– not because we have illusions about making this a profession, but simply because we love, love, love tennis. And a crazy idea popped into my head.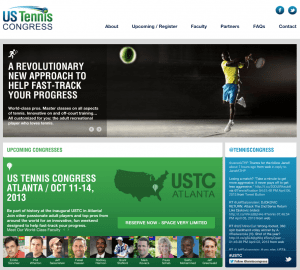 I thought: What if we could create an event for passionate amateur adult tennis players like us that was kind of like a combination of "TED conference" meets dream adult tennis academy… An event that would give serious recreational players the opportunity to learn from and train with some of the world's leading pros both on AND off-court… to work in person with the "best of the best" on all aspects of training… To learn from the best experts on everything from technique to strategy to off-court conditioning and injury prevention to nutrition to the mental game?
I spent a day imagining the possibilities and got really excited, but then I reeled myself in and thought, "You do not have time to do this. Maybe in a decade, when your day job isn't so demanding."
Then I woke up the next morning and thought: "You might get hit by a bus before then. Life is short. Just go for it now."
So I started calling some fellow tennis addicts to ask if something like this would appeal to them, and they all basically said "Are you kidding? That would be incredible."
Then I started talking to some of the pros I had worked with and deeply respected. I approached a handful of pros whose online work had been pivotal to my growth, including the great Jeff Salzenstein in Denver Colorado. I called up leaders in the tennis world at the cutting edge of professional development for tennis coaches and personal trainers–including folks at the Professional Tennis Registry (PTR), the US Professional Tennis Association (USPTA). and the International Tennis Performance Association.
I was totally blown away by the level of support and generosity of everyone who offered to help.
Ever since then, I've been burning the proverbial candle at both ends, spending many late nights and weekends trying to turn this vision into a reality.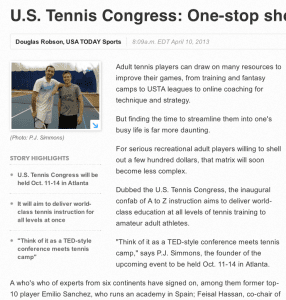 Fast forward to today, things have snowballed in a really exciting way and the dream has become a reality. I'm very proud to announce the birth of "The US Tennis Congress," which is profiled today by Doug Robson in USA Today.
The inaugural US Tennis Congress will takes place over Columbus Day weekend October 11-14 in Atlanta. It will feature a truly extraordinary lineup of over 30 world-class experts from six continents leading workshops and master classes both on-court and off, including:
Emilio Sanchez, Olympic Silver Medalist and former ATP World #7 (singles) and #1 (doubles)
Jeff Salzenstein, Former ATP Top 100 player and founder of Jeff Salzenstein Tennis
Feisal Hassan, USPTA Master Professional and Co-Chair of the USPTA National Education Committee
Steve Keller, Director of Development, Professional Tennis Registry
Kirk Anderson, USPTA and PTR Master Professional, Director for Coach Education and Development, US Tennis Association (USTA)
Dr. Mark Kovacs, Co-founder, International Tennis Performance Association (iTPA); and Director, Gatorade Sports Performance Institute
Grant Stafford, Five-time Doubles Champion and former ATP World #53. Director, USTA Regional Training Center in Atlanta.
Phil Wharton, Trainer to hundreds of Olympic athletes, and Member of the "Dr. Oz Top 100" list of health professionals
Paula Scheb, USPTA Master Professional
Rodney Harmon, Georgia Tech Head Women's Tennis Coach, former world #53, and Head Coach of the U.S. men's tennis team at the 2008 Olympic Games in Beijing, China
Jeff Greenwald, renowned tennis sports psychology consultant and the Senior World Champion Men's 35s and 45s
Rita Gladstone, 2011 USTA National On-Court Trainer of the Year
Brent Abel, Founder of WebTennis.com and 2009 USTA National 60s Hardcourt Singles Champion
Ian Westermann, Founder of Essential Tennis
Sujay Lama, Former #1 in Nepal and head women's coach at the University of North Texas
Ronald Rugimbana, Former # 1 in Tanzania, coached top 10 ATP Doubles player
Joseph O'Dwyer, Former Irish National Junior Champion and coach to several top ATP 100 players
As I reflect on the journey to get to this point, I continue to marvel at all the people who have lined up to help in one way or another… Friends and family members who offered help with everything from information technology to financial advice to moral support. Fellow players and teammates who gave pats on the back and huge doses of energy when I was beyond exhausted. Teaching pros I've known for years and those I called out of the blue, who all responded with a generous "of course we'll help." Top brass at the most important tennis organizations in the United States– the PTR, USPTA, USTA, and iTPA– who not only took seriously the vision of an amateur player, but embraced it and lent meaningful support. And all kinds of individuals I've met along the way, for whom the simple bond of tennis is enough to take a phone call, to lend an ear, and to jump on board somehow to help.
I'm deeply grateful for the support of every single person who has helped in any way. I know that together we're building something that will really help enrich people's lives.
I look forward to sharing more as it all unfolds… For now, please go check out our new site: www.tenniscongress.com and let me know what you think!