The "Spanish Method" Rocks — and so Does Emilio Sanchez
By P.J. Simmons
Recently my 4.0 friend Paul Tortora and I had the surreal, incredible opportunity to train for two days with Olympic Silver Medalist and former World #1 Emilio Sanchez and several of his outstanding coaching team at the Academia Sanchez-Casal in Naples Florida. 
The Sanchez-Casal academy is relatively new to the U.S., and before it opened in Naples anyone wanting to learn the "Spanish Method" of tennis training had to go to Barcelona. Not any more. The Academia Sanchez-Casal- Florida is now where Emilio spends most of his time, and as a result we were incredibly fortunate to have some quality training time with the master himself.
Our visit only confirmed something I already knew:
Emilio Sanchez is not just a stellar coach, but also one of the coolest guys on the planet.
I had actually learned this early in 2013, when I called the Sanchez-Casal academy for the first time—out of the blue—to invite Emilio to be on the faculty of the US Tennis Congress. I figured what the heck, the worst that can happen is he says no. He called back. I explained the concept and will never forget Emilio's warm, modest and generous response. I don't remember his exact words, but the sentiment was:
"I love the idea. Adults' dreams matter too. How can I help?"
Emilio brought that spirit to the inaugural Tennis Congress (with one of his outstanding pros Lucas Regas), and they left an indelible mark on everyone he worked with. Students who attended his classes used adjectives including brilliant, high-energy, inspiring, practical, approachable, and fun.
Because I was working I could only watch the classes at the Congress, so I resolved to get myself down to Academia Sanchez-Casal (ACS) as soon as possible. Another Tennis Congress alum, Paul Tortora, mentioned he wanted to go too so we planned a trip.
Paul and I each had many epiphanies and breakthroughs over our two days at Sanchez-Casal Florida. Here are some of our biggest takeaways:
#1. Great movement is the key to great tennis— and it's the core of the "Spanish Method"
Watch Spanish players like Rafa and David Ferrer—or those like Andy Murray who trained at Sanchez-Casal—and you'll see an extraordinary ability of these athletes to position themselves well to hit the ball.
Just what is "the Spanish Method" anyway? Emilio explains it's about building "survivors" and "warriors"… He says:
"The Spanish method is a way of placing yourself to hit the ball… There is a lot of emphasis on footwork and movement. It makes players tougher. And because they work much harder in the practice sessions, in the matches they are more like survivors, they are warriors. They don't mind doing what they have to do to get behind the ball, and they know that if they can get behind the ball, they're going to have more options to hit the ball more places."
After two days of being moved all over the place in drills designed to make us more get from point A to B more efficiently, Paul and I left ACS feeling like survivors (the drills are no joke). And, yes, more like warriors ready to embrace any challenge put before us on court.
Here's a window into the kinds of drills that are staples in the Spanish Method:
#2. Great movement requires great (tennis-specific) fitness training
The corollary to the above is that you can't move exceptionally well if you don't train exceptionally hard to do so—which entails off-court fitness training in addition to on-court work. Both Paul and I are evangelists of that philosophy (Paul actually just finished the process of getting iTPA certified as a Tennis Performance Trainer), so we were ecstatic that "fitness" was a built-in part of the curriculum for any adult coming through to train at ACS. This is standard for juniors and the pros, but rare for adult recreational players.
Each morning we were sent to the gym to work on tennis-specific strength and power development for an hour with the very inspiring and accomplished trainer Derek Touchette. Hard work, but fun and rewarding. Here's a glimpse:
The whole time I thought of my idol David "Never Give Up" Ferrer, whose fitness is off-the-charts:
#3. "Be a Lion"
Emilio and his team urged us to think about our movement like lions stalking prey… To move lightly on our feet. To move quietly, not crunching the underbrush loudly under our feet so everyone in the forest could hear us coming. To be ready to spring or pounce at any moment… Visualizations have great power in tennis and this one has really stuck.
#4. Defense is fun (with the right attitude)
Until we went to ACS, both Paul and I admitted we hated the feeling of backing up and being put on the defensive. After ACS, we both like practicing and hitting defensive shots and have a lot more confidence in them. Why? Because ACS taught us what it should feel like to (1) move to set up the right way to defend a tough incoming ball and (2) load the back foot and transfer weight forward during the shot. Doing so enabled us to execute #4 and #5 below, which felt really good.
#4. "Forward, Forward, Forward!"
We heard this a lot as we worked through all kinds of drills designed to get us to use our bodies to transfer energy forward during shots as opposed to backwards or to the side. That may sound obvious… But the challenging ACS drills made us both realize our tendency to not transfer weight and energy forward when put into tough positions. By the time we left, our bodies were more naturally doing this more often than not. And that's been a game-changer for both of us.
#5. "In Front! In Front! In Front!"
This was another mantra we heard from ACS coaches: the contact point for groundstrokes (and volleys) needs to be out in front out to maximize power and control. This of course wasn't new to us… But what was new was trying to consistently do this during drills that required great speed, agility and endurance. Once again, the tough ACS drills exposed weaknesses and the opportunity for us both to improve.
#6. Great teachers inspire and guide, not just tell and show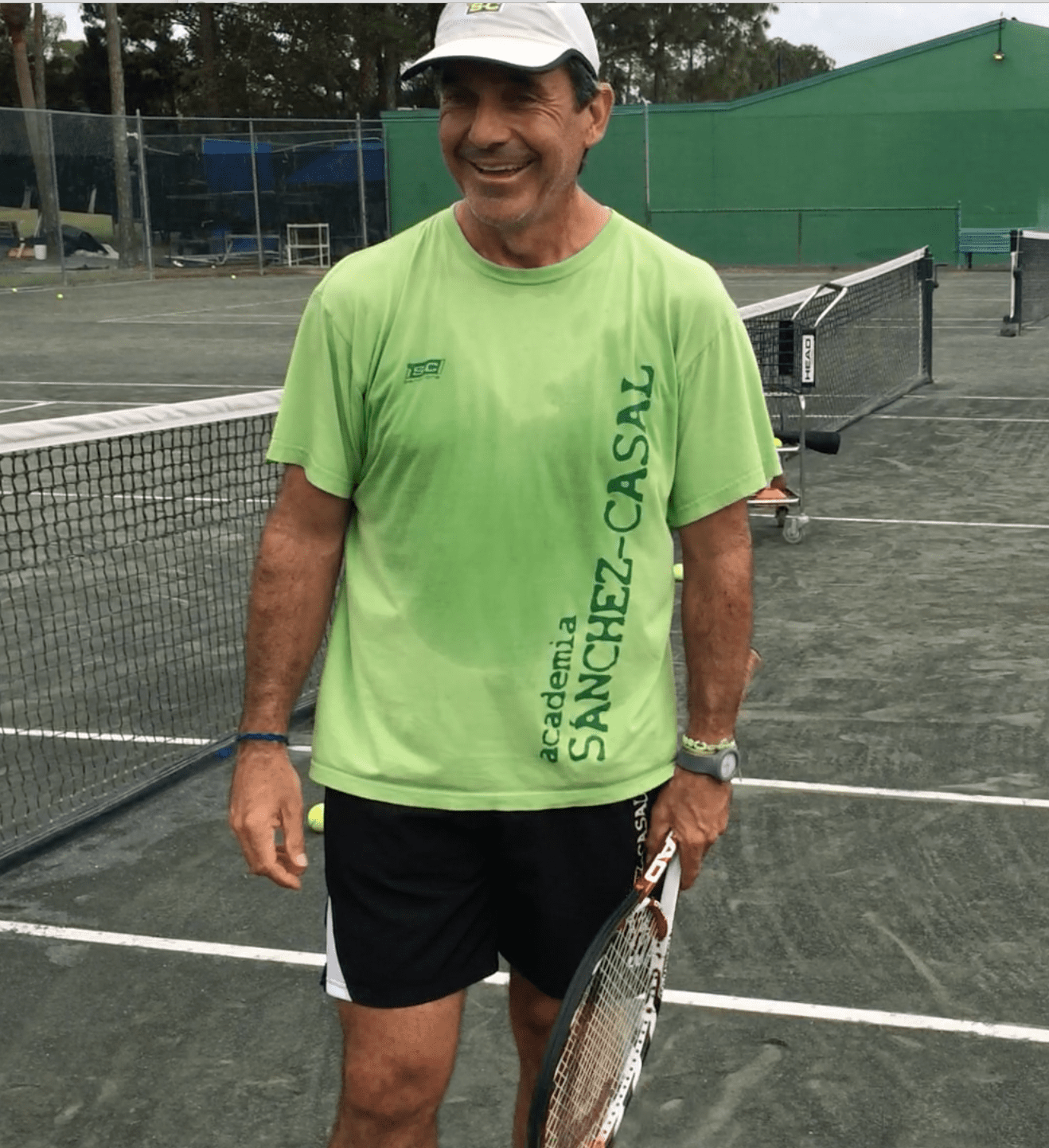 Great teachers don't just tell or show students what to do. They skillfully guide us through a process of self-discovery so we can truly "own" the information they're trying to impart and better retain lessons learned.
Emilio and his staff are superb at doing just that. They also make the learning process constantly exciting and fun.
And they inspire.
As fellow recreational tennis blogger Kim Selzman wrote on her "Tennis Fixation" blog after working with Emilio and Lucas at the Tennis Congress:
"What I loved was that Emilio and Lucas BELIEVED that we recreational players were capable of doing these drills and expected us to do them well (or at least as well as we could). In the most encouraging way possible, these elite coaches made us perform difficult and draining footwork drills over and over and over… I loved it. And the reason I loved it was because I came out of that session believing in myself. When Emilio Sanchez tells you that you just hit a "beautiful shot" (with a very heavy Spanish accent), you believe it was beautiful. If Emilio Sanchez thinks I can do these drills, who am I to think I can't?"
We agree. And we can't wait to get back to Naples.
And someday, to Barcelona too…