Putting "Winning" into Perspective
By P.J. Simmons
In the wake of the Lance Armstrong debacle, I've been reflecting a lot on how lucky we tennis players are that our sport's top champions are such great role models– not just as hardworking athletes, but as human beings.
With rare exception, today's top players in the ATP and WTA consistently set an example that honors our sport's longstanding tradition to play fair, show mutual respect, be gracious in victory as well as defeat, and to give back. In short, to truly be "winners" both on and off the court. In doing so, they carry on the traditions of most of the greatest players of all time— Rod Laver, Billie Jean King, Martina Navratilova, Arthur Ashe, Pete Sampras, Jim Courier, Andre Agassi, Steffi Graf, the Bryan Brothers, and on and on.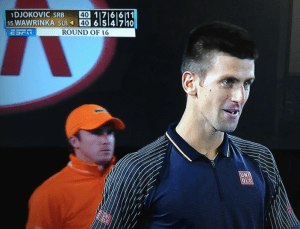 Take a most recent example from the 2013 Australian open. In a characteristically gracious post-match interview following his epic 5-hour Australian Open slugfest against Stan Wawrinka, Novak Djokovic said: "[Stan] deserved equally to be a winner of this match… I give him a lot of credit and all my respect… It could have gone either way and I'm just thrilled [to have won]." Djokovic had also demonstrated his sportsmanship during the match– including after losing his second match point during the excruciatingly long final tiebreak game: After Wawrinka hit an awesome shot to bring the score back to deuce, Djokovic looked up and gave a generous smile. The ESPN commentator quipped: "Even the man denied a match point had to smile!" Of course Djokovic didn't have to smile at that moment; in fact, many other players might have yelled an expletive or thrown a racquet. But for Nole, it's not uncommon to crack a smile or even applaud an opponent during matches when opponents hit exceptional shots. Upon winning, Djokovic went up to the net to hug a tearful Wawrinka– something that so many of the sport's champions routinely do after close matches. (And then, well, yes, he did rip off his shirt in a repeat of last year's wacky Australian Open triumph ritual. But nobody's perfect).
Then, of course, there's Roger Federer, who's in a league of his own in terms of class.
Federer has earned his place as the most beloved tennis player in the world not just because he's so incredible on court– but also because of who is he is off court. Incredibly decent and likable, Roger is always classy in victory and defeat. Always striving hard for his next win but yet never losing sight of what's most important: his family and friends. Always finding new ways to give back generously to communities in need. And always bringing a healthy dose of perspective, humility and humor. This video tribute to The Fed made by a fan gives a window into the passion he instills in others– and offers many reminders of why we all love him so much.
Federer's leadership by example has clearly rubbed off on his peers and will likely influence countless future generations of players– just as the great examples of Rod Laver, Billie Jean King, Arhur Ashe, and so many others like them have clearly influenced Federer. Thanks to these examples, it remains generally cool in tennis to be gracious– and very uncool to have meltdowns like David Nalbandian did in 2012 when he kicked an umpire and gave a pathetic half-apology.
Federer, and others like him, have also made it the norm for rivals in tennis to be not just civil but even to become very good friends off court. This hilarious video of Roger and Rafa trying to shoot a commercial for a charity event exemplifies the spirit of genuine mutual respect and camaraderie that's a hallmark of our sport (and makes my day every time I see it).
Speaking of amazing Spanish athletes who are also great guys…
Did you hear about the amazing story last month of runner Ivan Fernandez Anaya from Navarre Spain who sacrificed "winning" in order to do the right thing?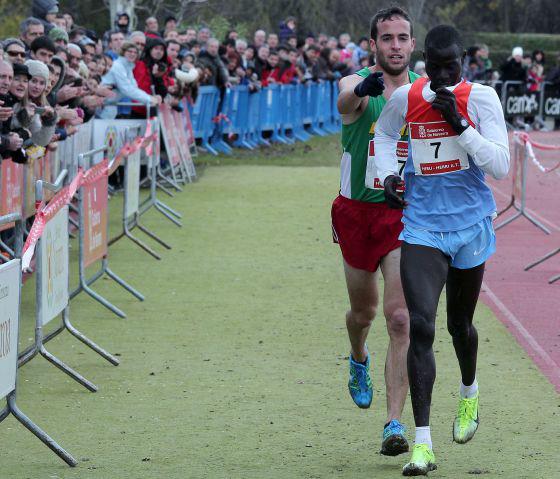 Anaya was in second place far behind Olympic bronze medalist Abel Mutai from Kenya– but then Mutai stopped running because he thought he had crossed the finish line. Instead of seizing the opportunity to grab first place, Anaya caught up with Mutai and directed him to the finish line so he could claim his rightful victory. The story has gone viral as people flock to share the inspiring story. As one Huffington Post journalist put it, Anaya showed the the world "that sometimes, just sometimes, winning isn't everything."
Actually, I'd argue that pretty much all the time, winning isn't everything.
Just before the holidays, I read a phenomenal book that's entirely about helping people put "winning" into proper perspective: The Only Way to Win: How Building Character Drives Higher Achievement and Greater Fulfillment in Business and Life. The author, Dr. Jim Loehr, has worked for decades with world-class athletes including Monica Seles and Jim Courier plus countless leaders in business, medicine, and the military.
His basic conclusion: if we build our self-esteem around external achievements (e.g. grand slam titles or USTA victories), we're destined to live life on a treadmill of dissatisfaction. Loehr writes:
External rewards can never fully satisfy… Addiction to achievement has a physiological, neurochemical basis, as real and compelling as addiction to drugs, food, gambling, sex, etc… As with other addictions, the pleasure of external achievement never lasts.
Loehr cautions that the "blind pursuit of external achievement" not only leads to personal emptiness; it also, ironically, results in poor performance. In contrast, he says, sustainable success and happiness comes to those who recognize that it's not about what you achieve, but "who you become as a consequence of the chase." Loehr gives a lot of inspiring examples along the way, including the incredible John Wooden— one of the winningest college basketball coaches in history who was "legendary for never mentioning winning to his players, certainly not as the aim."
As a recreational tennis player with a raging inner fire to reach a 4.5-level tennis (and beyond), I've found this book to be deeply grounding. Sure, I'm just a recreational player striving for my personal best: but I love tennis so much, and it becomes even more fun as I improve– so the goals I set really matter to me. A lot. As a result, there have been moments over the past year when I've caught myself losing perspective and letting ugly emotions surface: impatience and frustration ("why do you keep making the same mistake you idiot!), anxiety and fear ("what will everyone think if I lose yet another USTA match?"), embarrassment and humiliation ("I feel like such a loser that I just choked yet again").
Now when these emotions start rearing their ugly head, I ask myself a simple question:
How do you want your tombstone to read: that you were a great tennis player (or "achiever" of any kind), or a great person who made a positive impact in the lives of others and the world? 
Of course the answer is a no-brainer. And it helps clear away any clutter in my mind and focus me back on what really matters–including how grateful I am able to be healthy and able to play in the first place. (All of which, ironically, helps me play looser and perform better).
As I was finishing up this post this morning I got an email from one of my favorite coaches, Jeff Salzenstein, with the subject line "What I've Learned from Lance Armstrong." Jeff and I have talked together about Jim Loehr before, so the content wasn't a surprise — but the timing was incredible.
I thought: if more athletes had coaches like Jeff carrying forward the teachings of Jim Loehr and the spirit of John Wooden, there would be far less Lance Armstrongs out there.
And a lot more happy people.
January 22, 2012
"As a dedicated coach, I'd love all of you to become better tennis players…but never at the expense of doing anything other than handling yourself with the utmost dignity while treating others with complete respect on and off the court.
Even though I want players like yourself to have a killer serve, elegant footwork, amazing technique, and lots of victories, deep down my desire is to see you play the game the right way. I want you to be remembered as someone on who made very fair line calls, gave your opponents the benefit of the doubt, enjoyed the process of learning, and had the ability to smile and laugh about your own unique tennis experiences.
Most sports –especially tennis– reveal your true character, often in the face of some adversity. I know I'm biased, but I'd argue that tennis is the best sport to show YOU where you're really at with your life.
As my good friend and mentor, Dr. Jim Loehr, said in a presentation I attended earlier this year…
"I care about your tennis but I care more about you and who you are becoming because of tennis."
—Jeff Salzenstein, former ATP Top 100 player, coach and founder of Total Tennis Training